Benjamin Franklin is credited with having said that "Wine makes daily living easier, less hurried, with fewer tensions and more tolerance".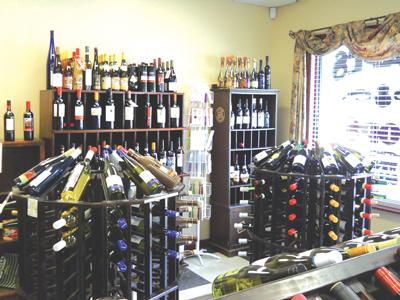 Perhaps local wine-shop owners Teresa Swint and her father, Howard Johnson, "no we don't own hotels, tee hee" says Swint, had similar thoughts when they decided to open Grapes & Hops on Ramsey Street seven years ago.
Swint said she had long thought that there needed to be a wine shop on the north end of town. When she and her dad decided to go into business together, it was an obvious choice for them.
Before opening Grapes & Hops, Swint, an accountant, and Johnson, who retired from hospital administration, admit they knew nothing about wine and beer. With a huge learning curve to overcome, and armed only with a desire for knowledge, they threw themselves in feet fi rst. Becoming masters in their fi eld, their focus now is on their customers.
Swint says that where wine was once consumed more by retirees, a younger demographic is now embracing the experience.
"I am not sure why the resurgence," says Swint. "My only thought is that you can have so many different experiences with wine, reds versus whites, etc., whereas a gin and tonic is a gin and tonic."
The wines at Grapes & Hops come from all over the world, however, some, like Duplin, Shelton, Raylen and Dennis originate right here in the Tarheel state. Swint says her store specializes in good customer service and that they will gladly special order wines for their patrons.
Every Friday the store opens new wines and offers free samples. She adds that by purchasing in a shop that employs wine stewards, you can receive personal recommendations and suggestions.
If you're looking for a theme for your next party, Swint says that "wine tastings can be a fun thing to host."
Local wine enthusiast, David Evans, and Swint, both, suggest having a theme to your wine-tasting.
"Cabernets from South America or Sauvignon Blanc from New Zealand," is a good place to start says Swint. She adds that "the difference in growing regions and the taste of the wines would surprise most people."
When asked to describe the steps involved in tasting, Evans explains, "before tasting the wine, hold the wine up to a light or against a white background and assess the color. White wines will be pale to golden, depending on its age, whereas red wines will range from light red to almost black. The darker the red, the heavier the fl avor."
The next step according to Evans is to "swirl the wine in the glass. After you swirl, look at the sides of the glass and you will see streaks coming down the sides. These are called 'tears' or 'legs'. If the legs come down thin and quick then it's probably a light and low-alcohol wine. If the legs come down slower and thicker, it's probably a heavier and higher-alcohol wine."
The wine gets swirled again, then it's time to inhale the wine's aroma. According to Evans, "If it's a red wine, it may be earthy and spicy and may be Old-World style, whereas a New-World wine may be fruity."
The best step in the process comes next.
"Taste the wine," says Evans. "Notice how it feels at the tip of your tongue, in the middle and on the sides of your mouth. Be aware of how long you can taste the wine after you have swallowed it."
Both Evans and Swint suggest having food available should you host a wine tasting. Swint says to serve "both soft and hard cheese, plain crackers and fruit."
If you prefer trying your hand at making your own wine or beer, Grapes and Hops also sells supplies to get you started. In addition, they make lovely gift baskets that are perfect for every occasion. Visit them at 5407-C Ramsey Street or give them a call at 822-8700 for more information.
Photo: Grapes and Hops offers a wide array of wines to residents of North Fayetteville.