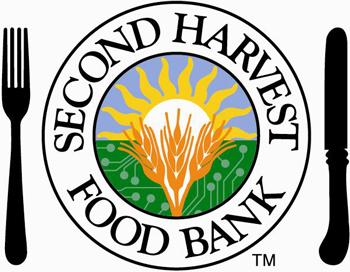 It only takes a few minutes with Second Harvest Food Bank (SHFB) Director David Griffi n and Operations Manager Gideon Adams to understand that they are passionate about their work, and perhaps more importantly, they are practical about it,too.
In their business, they have to be.
In an organization that feeds more than 90,000 people every month, practicality is key to surviving. Citizens of Bladen, Cumberland, Duplin, Harnett, Hoke, Robeson and Sampson counties count on the donations of individuals and organizations to stave off hunger every day. Like many non-profi ts, things can be tough even during the best of times. With things the way they are now, the staff of the SHFB fi nds itself in the position of facing a growing need and a declining base from which to draw donations.
From Aug. 1 to Sept. 30, they are pulling out all the stops to raise awareness, have a little fun and reach out to the community to educate it about practical ways to help feed our neighbors.
"The face of hunger is changing," said Griffi n. "It used to be mostly homeless people, and this is still an issue for them, but now we are seeing more and more working-class and middle-class people who are struggling."Griffi n explained that often a person will get laid off but they still have the same nice car, live in the same house and wear the nice clothes that are already in their closet. The problem isn't about those things, rather it's now about making hard choices. They often have to choose between paying the rent or light bill and buying groceries.
Having children in the family adds to the burden. The same is true for many elderly. Costs continue to rise but their income doesn't. Griffi n noted that many of these people were used to paying their own way and taking care of their own needs, but now they are struggling and they don't always know where to go or how to ask for help.
"When someone is hungry it affects so much about the way they function," said Adams. "It affects how well they can think and concentrate, which can be devastating for students, as well as the kind of risky behaviors they may choose to become involved in. We do what we can to make a difference, but it is diffi cult to reach everyone. The need is so great."
There are four events remaining in the Hunger Days Campaign, and of course, contributions and donations are appreciated anytime. On Saturday, Aug. 6, from 10 a.m. to 2 p.m., check out the SHFB Open House at 406 Deep Creek Rd. Learn how the food bank operates and enjoy food, games, activities and entertainment. Member agencies, elected offi cials and individuals are all invited.
On Thursday, Aug. 18, there will be a Strike Out Hunger Bowl-A-Thon at B&B Lanes from 2-9 p.m. It's not too late to register or sponsor a team. There will be a 50/50 raffl e and prizes will be awarded for different categories of entries. Sign up with your four-person team, enjoy an afternoon bowling with your friends or colleagues, and help SHFB raise money to fi ght hunger in our community.
The Strike-Out Hunger Bowl-A-Thon will consist of teams of four bowlers who will have the opportunity to bowl for 1 hour and 45 minutes. There will be a maximum of 69 teams for this event, so make sure you register today! The cost per team is $150.
On Friday, Sept. 16, the 3rd Annual Driving Out Hunger Invitational Golf Tournament will be played at Baywood Golf Club. Registration starts at 8 a.m. followed by a 9 a.m. shotgun start. Registration is $300 per team or $75 for individual entries and includes transportation, round of golf, cart and lunch. For information or to download registration forms, visit www.drivingouthunger.net/tournament.htm.
The Tackle Hunger Video Game Tournament will take place on Saturday, Sept. 17, from 2–6 p.m. at the SHFB parking lot. Registered participants will play Madden 2012 for a chance to win prizes and claim the Tackle Hunger Champion title.
Sponsorships are available for all of the events above. To register for any of these events, find out how you can help volunteer, or to find out more about these events, visit www.hungerdays.org or call 485-6923.
Second Harvest Food Bank Has Far Reach In the Community
The Second Harvest Food Bank of Southeast North Carolina is a program of Cumberland Community Action Program, Inc. CCAP is a private, non-profit corporation whose express purpose is to "improve the education and economic opportunities, living environment and general welfare of the people."
The food bank was established in 1982, and became an affiliate of Feeding America in 1994. It is one of seven certifi ed affliates of Feeding America located in North Carolina, covering all 100 counties.
The food bank provides nutritious food to those at risk of hunger through a network of over 200 non-profit members. There are over 200,000 individuals, or 18 percent, at risk of hunger within the seven counties the partner agencies call home.
The Mission
• Feed the hungry by retrieving unmarketable, yet wholesome, surplus food from major industries.
• Solicit public and private donations. Eliminate food waste by acting as a clearinghouse for all foods received through Feeding America food industries or food drives.
• Judiciously distribute food and grocery products to service our network of member non-profi t agencies; these agencies provide on-site and emergency feeding to those in need.
• Formulate a bond between local food industry, other non-profi ts and the Food Bank.
• Develop and follow plans which advocate resolutions to ending hunger.
The Programs
The Second Harvest Food Bank of Southeast North Carolina works to eliminate the cycle of hunger through a wide range of programs and services. They are achieved through our member agencies and local, state, and national partners.
• Back Pack Program - provides wholesome and nutritious food to elementary school students. Each Friday, selected students receive enough food for the weekend to supplement meals otherwise not available.
• Emergency Food Assistance Program – distributes surplus food from the N.C. Dept. of Agriculture to low-income families and individuals.
• State Nutritional Assistance Program – Allows the food bank to purchase products that are normally not found in regular donations.
• Nonfood Program – the food bank receives donations such as bikes, furniture, clothing and other nonfood items from Target/WalMart Distribution Center.
• Volunteer Program – Partnerships with local and state agencies provide volunteer and community opportunities to individuals and families.
• Grocery Retail Program – This program rescues edible foods such as meat, deli and produce from grocery stores.
• Salvage Program – The Food Bank receives and distributes donations from retail stores and reclamation centers. The products are inspected to ensure they are edible and safe for consumption.