Surfboarding penguins, a sunfl ower draped Iron Mike and a Jim Morrison-inspired cowboy are a just a few of the visual delights that await you when the doors to Wet Willie's opens in early October.
But as much as the new entertainment venue in historic downtown Fayetteville is a visual delight, its trademark daquiries are a tasty delight that Josh and Tonia Collins believe will help keep summer hanging on all year round.
Years in the making, Wet Willie's is the third restaurant the couple has opened in downtown Fayetteville, and if their past successes are any indicator, Wet Willie's will soon become Fayetteville's nightlife destination.
The restaurant, part of a Wet Willie's 17-store chain, is a natural progression for the folks at Huske. Collins recounts that their first foray into the restaurant world was at Blue Moon. When Huske Hardware came up for sale, Collins thought it was an opportunity not to be missed. But Tonia thought otherwise.
"I told Tonia I wanted to do Huske, and she said, 'No, I want to do a Wet Willie's,'" recounted Josh. "So I said let's do Huske fi rst, and then we will do Wet Willie's. That was the negotiation."
After getting Huske on a solid status. The duo and their partners began laying the ground work for Wet Willie's, purchasing the franchise in 2007. As Huske took off in late 2008-2009, they started working harder on Wet Willie's and then the economy crashed.
"We were working through the small business loans, but money was hard to come by," said Josh. "We were on our third bank, and our business was in a five inch binder before we got fi nal approval — and that was a nine-month process."
"Quite a few things were happening downtown at that time. Businesses were closing, but were were doing okay," he said.
When the Wet Willie's executives came to town, the Collins' took them to a variety of locations where they thought to put the restaurant. "We went all over the community, and the CEO wouldn't even get out and look at some of the locations," he said. "When we showed them Huske, the CEO said, 'Son, this is a homerun.'"
"And then he said, 'If you don't do it here, I am,'" added Tonia.
The idea is that the two businesses, Huske and Wet Willie's will complement each other, creating a nightlife destination for downtown.
As mentioned earlier, Wet Willie's is a daiqu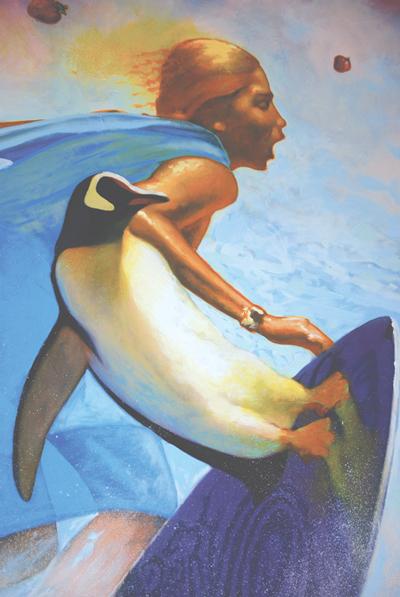 iri restaurant. It was originally started in 1988 by a small group of friends. The group began the research required to fuse the daiquiri concept with a casual, upbeat atmosphere, yielding the right mix of fl avor, fun and success. The goal was to exceed our guests' expectation of a bar and a party, and to become an institution.
The Collins' hope to meet that goal in Fayetteville. "We will make the world's greatest daiquiris," said Josh.
The restaurant serves a variety of exotic as well as classic frozen daiquiris with names like Attitude Improvement, Bahama Mama, Chocloate Thunder and the classic Call A Cab. It will also offer aclohol-free drinks known as Weak Willie's
.Along with the drinks, there will also be great food. The restaurant will feature some of the chain's menu, but will also offer an expanded menu.
"We are taking it up a notch," he said.
The same can be said of the nightlife. Just as Huske has become a destination for dancing and live music, Wet Willie's will also offer quality night time entertainment in a safe and healthy environment.
As construction is ongoing at the facility, adjacent to Huske, excitement is beginning to grow. Frequent hits to the establishment's website, www.wetwillies.com/locations/fayetteville, have resulted in the still unopen restaurant being in the top three for VIP memberships within the chain.
"We aren't planning on a big grand opening, we think people have waited long enough," said Tonia. "We just want to get the doors open and let the people enjoy it."