Reading Rocks is in its eighth year, and it is bigger and better than ever. On Oct. 22, the public is invited to rally at Festival Park for a 1.5-mile walk through historic downtown Fayetteville.
Last year the program attracted about 20,000 participants and raised more than $200,000. Every school in the system participated — that's two special schools, one year-round classical high school, 14 traditional-calendar high schools, 15 middle schools and 53 elementary schools — 85 schools in all, according to the Cumberland County Schools website. There are 53,361 students enrolled in this school system and 24,290 of them attend elementary school. That is almost half of our county's students.
The money raised averages out to more than $2,300 per school, although it wasn't necessarily distributed that way. It's still an impressive sum — and every penny of it was used to promote literacy for the benefit of Cumberland County students.
Belinda Cashwell, Cumberland County Schools System media services director, said that the event organizers are hoping to have 25,000 walkers this year and that they've already raised $225,000. While the schools have already completed their fundraising campaigns, the county is still taking donations and can be reached at678-2613.
One of the many great things about this fund-raiser is that each school keeps 100 percent of funds they raise.
"It is all used to promote literacy in Cumberland County," said Cashwell. "We are trying to raise money to put quality literature in the hands of children through our media centers. We have professional media coordinators who read professional reviews on every book purchased. We want to make sure our children have the very best materials."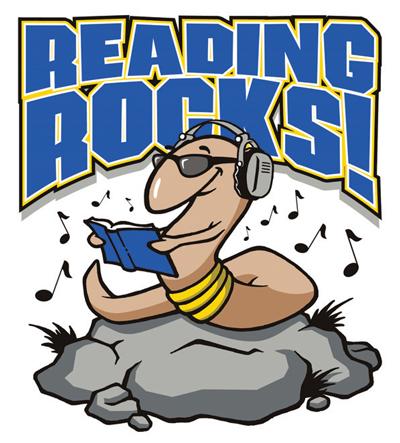 Getting kids to read is only part of the program. Cumberland County Schools also have computer-based reading programs in the schools. Once students read a book they can go and take a test about what they have read. Any parent with a child in the Cumberland County Schools is well-acquainted with the Accelerated Reader program. The program gives student a goal to read a set number of books. That goal goes into determing a student's grade. The tests, taken on the computer, track how well a student is comprehending and processing the information they read in the book. Students must score greater than 70 percent on the test for the book to count against their goal.
The testing element is a web-based model that Cashwell says has more than 150,000 quizzes in it. The school system also has a targeted teaching prescriptive learning model, that students can use to check out books by objective in every single media center in the Cumberland County Schools System.
Statistics were not readily available to compare the literacy rates of local students with the state or country, but Cashwell did note that, "Our drop out rate is only 2.7 percent. We are the fourth largest school system in the state and our drop out rate is lower — which is a good step when you are talking about drop out rates — than other counties our size."
In addition to the walk, which is free and does not require registration, there is also a run scheduled for Oct. 22 that will benefit Reading Rocks.
Runners can register at active.com and search Reading Rocks in Fayetteville, N.C. The race starts at 7 a.m. Online registration costs $20. It is $15 for students and same day registration is $25.
If the good cause is not enough to inspire participation, Cashwell said that the format of the event is a unique and fun way to do things.
"We call Reading Rocks a parade in reverse — 16 bands are stationed along the route and everyone walks past the bands," said Cashwell. "The school that raised the most money, well, their band gets to perform at the center of the Market House. The most exciting thing is that this is our only community-wide signature program with Cumberland County School in the greater Fayetteville area. It is exciting because it is not just school children walking. We have nursing home residents who come out and participate in their wheelchairs, school personnel and their families come out too. It's an everyone event, even though it is a fundraiser."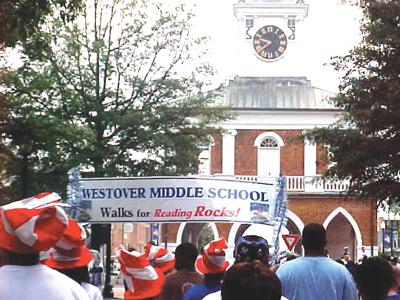 Sure, raising money for literacy is a great thing and the community support is amazing, but most of all, Cashwell loves the kids.
"My favorite thing about Reading Rocks are the children. Last year there was a big surprise. It was the first year that our high school students exceeded our elementary students in attendance for this event and that is very exciting."
There is no registration required for the Reading Rocks walkathon. It's a great way to support literacy and promote healthy living at the same time. The whole thing is over by 11 a.m. Call 678-2613 to find out more information or to make a donation.
Photo: Event organizers are hoping to have 25,000 walkers this year.