"Goooooood Morning Fayetteville!" Those aren't exactly the words that made Adrian Cronauer famous, but they are important because Cronauer, a Vietnam-era military radio broadcaster, will be in Fayetteville to help welcome home and salute Vietnam veterans.
Cronauer, the inspiration for the main character in the 1987 film Good Morning Vietnam, is also the author/screenwriter. Robin Williams was nominated for and received an Academy Award for his portrayal of Cronauer in the movie, which deals with issues of censorship by the military in the reporting of the war, and the relationships and betrayals that were part of the daily lives of military men and women serving in Vietnam.
As part of the Heroes Homecoming celebration, Adrian Cronauer will be in Fayetteville Veteran's Day weekend, participating in many of the scheduled events and welcoming home America's Vietnam War veterans.
In a recent telephone interview, Cronauer recounted how the movie came to be. When he first wrote the script, it was in the form of a sitcom. M*A*S*H was at the top of the ratings and so was WKRP in Cinncinati. It made perfect sense to Cronauer that a sitcom about broadcasting and war had potential so he wrote a script based on his time as an armed forces DJ in Vietnam. The television industry wasn't interested and turned Cronauer away.
The script eventually made it into Williams' hands. He saw potential in the story and was willing to take a chance with it, which paid off for Cronauer.
"I took a year off college to travel the lecture circuit right after the movie came out," said Cronauer. "What I made doing that paid for law school."
Later he worked as the Special Assistant to the Director of the Pentagon's POW/MIA Office.
"It was an amazing thing, when the movie fi rst came out, to see Robin on the screen as Adrian Cronauer," said Cronauer adding that "If you ever see it again, keep in mind, and anyone who has ever been in the military will tell you, that if I did even half of the stuff that Robin did in the movie I'd still be in Leavenworth!"
At an event as meaningful as the Heroes Homecoming who better to extend a hand of welcome to veterans than one of their own?
"It is very common among Vietnam veteran's to greet each other with the phrase 'Welcome Home,'" he said. "No one else ever said that to them. With events like Heroes Homecoming we are finally changing that."
He'll only be in town for a few days, but Cronauer's schedule is packed. He'll speak at the opening of Miss Saigon, attend the American Red Cross gala, speak at the Airborne and Special Operations Museum's showing of Good Morning Vietnam, attend the Darius Rucker concert at the Crown Theatre and attend the Veterans Day Parade.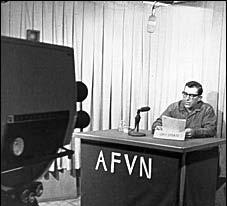 Cronauer will also have the honor of emceeing the USO of N.C. Variety Show at the Crown with Connie Stevens,who is remembered fondly by Vietnam vets for the time she spent entertaining them at hastily put together USO shows in jungle outposts.
"I was there with USO troupes," Stevens said during a 1998 interview with the New York Daily News. "I was there with Bob Hope and with Neil Armstrong in 1969 and 1970."
She did what many talented young starlets did: They sang, they danced and they fl irted with the boys who became men long before their time. "I was only a young star at the time, but I landed in the middle of jungles and felt what it was like to be shot at and to hear explosions in the distance."
Like Stevens, Cronauer, who says his 15 minutes of fame is fading, is sincere in his commitment to this particular generation of vets, and says he is looking forward to connecting, celebrating and remembering with his brethren during Heroes Homecoming. Find out more about the 10-day celebration honoring Vietnam veterans at www.heroeshomecoming.com.
Photo: Above: Adrian Cronauer during his radio days in Vietnam. Right: Connie Stevens with Bob Hope at a USO show in 1969.