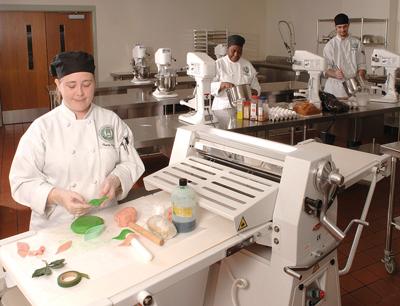 A state-of-the-art cold kitchen is the newest addition to the Culinary Arts Department at Fayetteville Technical Community College. The most recent expansion to the facilities was designed to provide a kitchen with temperature and humidity control features. The cold kitchen was completed in October, creating additional space for Culinary training which consists of three kitchens and a dining room.
Humidity and temperature control are critical in a bake shop when preparing sugar and chocolate work. Students are instructed in the preparation, construction, and assembly of confectionary show pieces and dessert items. Show pieces are decorative competition entries made from various confections and must be completely edible. If the temperature and humidity are not perfect when preparing and holding these show pieces and dessert items, they will become sticky and eventually melt, losing their shape and form in the process. Imagine a wilting fl ower and the slow demise of the fl ower on a hot humid day. This is exactly what happens to chocolate and sugar pieces that have been properly prepared, but not kept at the proper temperature and humidity in the preparation and holding process. Having a cold kitchen also allows longer working time with chocolate and confection mediums. This will give students a better opportunity to understand and utilize the scientifi c reactions that are occurring while tempering chocolate and pulling or blowing sugar.
The temperature of the cold kitchen will be kept at 62 degrees Fahrenheit and will be set at approximately 10% humidity or below when working with most pastry and confection products. This environment is impossible to maintain in a typical hot kitchen, particularly in the south. Most of North Carolina is considered to have a humid subtropical climate with a relative humidity anywhere between 48% and 95% depending on the time of year and the region. The cold kitchen will allow the instructors to control factors that will allow successful student training. The students will actually be able to prepare, handle, assemble, and display their sugar and chocolate show pieces with success due to temperature and humidity control feature in the cold kitchen.
In addition to your typical bake shop equipment, the department purchased a commercial dough-sheeter for the cold kitchen. Culinary students will work with various types of dough including sugar dough, gingerbread, and laminated dough like croissants and danish that must be rolled out into a uniform thickness. This piece of equipment will allow students to quickly prepare large quantities of dough products precisely in a uniform thickness ranging from 5 inches to 1/16 of an inch. In addition, the machine can be used to prepare rolled fondant for covering decorated cakes and as preparation for gum paste fl owers to adorn wedding cakes.
Currently, the Culinary Arts department offers a Baking Certifi cate as an offspring to its Associate of Applied Science in Culinary Arts parent program. The Baking Certificate can typically be completed in two semesters. Students graduating with a Baking Certificate are trained to master the preparation of quick breads, cakes, lean and rich bread dough, pies, tarts, sweet sauces, meringues, basic sugar centerpieces, chocolate tempering, basic molded, dipped and formed chocolate truffles along with basic chocolate and marzipan modeling skills. Students are also able to decorate and assemble multi-layered cakes using buttercream, royal icing, fondant, marzipan and gum paste decorations. Any student who completes the Baking Certificate at FTCC would be a huge asset to any master chocolatier, pastry chef or baker.
We are hopeful that the Culinary Program's cold kitchen will be a stepping stone to offering a Baking and Pastry Arts Associate Degree option sometime in the near future. This would require the addition of course work in the areas of artisan bread, chocolate artistry, European cakes and tortes, advanced cake decorating and design, and bakery startup and management.
For more information about the Culinary Arts degree or certificate programs including the Baking, Garde Manger and Demi-Chef Certificates, please contact Kay Gilbert at 678-8295.
Photo: Elizabeth Culbreath, Tracey Deskin and Michael Schafhausen are Culinary students making pastillage, a sugar dough made of sugar, gelatin and white vinegar and formed into a sugar ceramic. These decorative pieces and can be painted, glazed and air brushed.