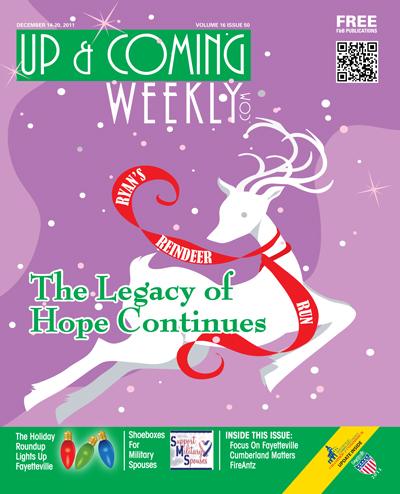 On Saturday, Dec. 17, Roberta Humphries will be surrounded by friends and family. She will get a chance to see her son Ryan's best friend Wyatt and his newborn child. She will probably hold the child, and think back to the days when her son and Wyatt were just little boys.
In Wyatt's child, she will see the future Ryan never had. But in the laughter of Ryan's friends, family and even complete strangers, she will know that Ryan lives on, and that his legacy of hope continues.
That's what Ryan's Reindeer Run is all about. As runners gather at the start line at the Medical Arts Building on Saturday morning, many will know why they are running, many won't. Humphries wishes they all knew Ryan's story.
Ryan would be 27 this year. If all had gone well, he would have already graduated from Princeton, where he had elected to go after receiving acceptances from a stream of Ivy League schools including Harvard and Yale. He may have been married, and like Wyatt, may have been bringing his child home to spend the holidays with his parents. That isn't the case.
Ryan Kishbaugh was diagnosed with Hodgkins Lymphona at the age of 17. The diagnosis was devastating to his parents, but Ryan, who was known for his sense of humor and intensity, didn't let it defeat him.
"With it being Christmas, I find myself thinking a lot about Ryan," said Humphries. "The year he was diagnosed, I came home from work and he and his brother Sean were on top of the roof of the house. They had put lights up that spelled out Ho! Ho! Ho!"
He had such an infectious laugh," she continued. "He absolutely loved hanging out with his friends. At the time, we had a walk out basement in our house, and he and all of his friends would hang out there. I could always hear his laughter ringing up the steps. He was just a really fun person to be around, but he was also very intense."
That intensity showed up on the soccer field, the basketball court, the classroom and his hospital rooms.
"He started playing soccer when he was just 4 years old, and continued on throughout the years. He started playing basketball in early elementary school," said Humphries. "He never gave up — on the fi eld or the court."
This was evidenced during one of his rounds of chemotherapy. He was at Duke undergoing chemotherapy. That night, his team had a game in the Triad area. Kishbaugh asked his mother to take him to the game, and he wound up not only playing, but scoring the winning point."
As his treatments progressed, something similar happened with his soccer team. The team was in the playoffs for the state championship. Ryan had had surgery the week prior, and was fi nishing off another round of chemo at the hospital. He spent the entire day on the phone calling his teammates' parents to follow the game.
"The team won, and as soon as Ryan was released from the hospital, we drove to Charlotte," recalled Humphries. "He got to spend the night with his teammates, and the next day he had the opportunity to play in the state finals. He wanted to play in that last game so badly, and he left it all on the fi eld. He hated that his athletic career was taken away from him, and he saw that game as a way to go out on his own terms. That game took a lot out of him, but he put everything he had into that game."
Those are some of Humphries most treasured memories, but she also holds his quiet moments close as well.
"As horrible as the bone-marrow transplant was, being able to spend that quiet time with him at the
hospital is one of my favorite memories," she said. "I had the chance to see his indomitable spirit. He never got upset, even when something in the treatment plan went wrong. He kept a positive attitude. He wasn't worried about himself. He was so much more concerned about the younger children on the ward. He became a big brother to all of them. The children, their parents, the hospital staff — they gravitated to him."
There were many things Ryan wanted to accomplish before he died, including graduating from high school. He did that, graduating as the salutatorian, despite the months of treatment and testing he had to undergo.
He wrote his speech about everyday heroes. He talked about the need for hope, and how something as simple as a smile could give someone hope. His parents were unsure as to whether he would be able to give the speech, but he persevered and delivered a message that resonated with his classmates, although he was hospitalized again the Sunday after graduation.
"He talked about the fact that not everyone can perform extraordinary feats, and that it wasn't necessary to do that to be a hero. He talked about everday acts of kindness that can make you a hero to someone," she said.
Ryan's legacy is continuing in the run his family started following his death. Each year, the run raises money, which is then distributed to agencies that benefit others.
"I think he would be happy to know that other people have benefi tted from the money that is raised in his name," said Humphries. "Although he isn't here to do those good works, they are still happening and people are benefi tting. He would be somewhat embarrassed — seeing the outpouring of people. I think he would be surprised to see how many people still care to participate — although some people just come to run."
More importantly, she believes her son would be happy to see where the money goes. It has been used to help the Duke Children's Cancer Ward, to sponsor a Cumberland County child on a Make-A-Wish trip, and to benefit agencies that he volunteered with while he was alive.
"I think he would be proud," said Humphries, noting that the race has raised more than $66,000 since its inception. It continues to grow. The first year, there were only 274 runners. Last year there were 707.
"We grow by about 100 runners each year," said Humphries. "Right now we have 530 runners registered, so I think we are on track because so many register on race day."
The days leading up to the race are hectic for Humphries, but in the calm after, she has time to think.
"When the run is over and I can reflect back, it just makes me really happy that I have been able to do this in Ryan's memory. He never got to finish what he started, and as long as I can continue that for him, I would like to be able to do that. I felt that he was destined to do some wonderful things in this world and didn't get to finish, so it is my responsibility to allow him to continue to do that."
The race begins at 8:30 a.m. at the Medical Arts Building on Hay Street. Registration is available online at www. runbecauseyoucan.com/r
un.html. Individual registration is $25, while family entry is $75, which includes four T-shirts. Two additional family members may register for $12 apiece.
While at Duke, Kishbaugh wrote a book chronicling his experience with cancer. In the book, he noted, "So many people throughout this whole ordeal have asked me why I chose to do what I did. I always told them that I really didn't see much of a choice in it. Now I realize there was, because so many of us sit on the sidelines and watch. As for me I just love to run. So do a favor for me and just go out and run, somewhere, anywhere. Just run because you can."
Photo: above right: More than 700 people turned out at last year's race to celebrate the legacy of Ryan Kishbaugh. Bottom left: Wyatt Jenkins, Rebecca Blake Kishbaugh, Chris Kishbaugh, Josh Taylor and Laura Lenfestey Taylor friends and family of Ryan Kishbaugh at the fi nish line.