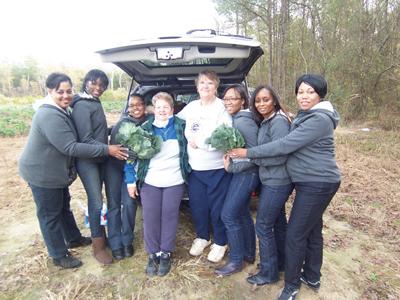 Almost one in five families in Cumberland County will wonder where their dinner is coming from tonight. That's higher than the national average. Of those families, 34 percent do not qualify for food stamps or federal programs, according to a March 2011 article in the Philanthropy Journal.
Food insecurity is the lack of access to enough food to feed all family members and food insecurity is exactly what a new organization called Ruth's Mission plans to battle in Cumberland County by bringing farm fresh foods to Second Harvest Food Bank.
Ruth's Mission is the vision of six lifelong friends: Dionne Evans, Robyn Johnson, Courtney Locus, Kathy Hardy, Toni Bennett and Chelsea Forbes. After one of the group participated in a farm-gleaning project with her church, she brought the idea to her friends. Gleaning is the act of foraging food left behind after the harvest.
"When you think of a food bank, you always think of canned goods. This was an awesome opportunity to bring fresh food to families in need," explained Johnson.
They named their organization after the Biblical story of Ruth, who gleaned the fi elds to care for her family and taught lessons of loyalty, love, kindness and the value of the human being.
"We have to look out for our brothers and sisters in our community. We thought we could do that by gleaning the fi elds and raising non-perishable items to give to Second Harvest Food Bank," said Johnson, a health educator at the Cumberland County Health Department.
Though each member of the group has a professional career, they are not afraid to get their hands dirty to benefi t the community. A local farm, that prefers to keep their gift anonymous, worked with Ruth's Mission on its fi rst gleaning on Dec. 10.
"Once local farmers harvest their crops, they allow us to come in and glean the remaining produce and distribute as we feel necessary," said Johnson. It is the group's first joint collaboration, even though the members of Ruth's Mission have been volunteering in the community for years.
Ruth's Mission is also working with the Society of Saint Andrews, which also gleans from local farms, to provide produce to families in Cumberland and surrounding counties. For the time being, Ruth's Mission will focus on supporting Second Harvest Food Bank and Cumberland County. Future plans include branching out to group homes and women's shelters.
As harvest season draws to a close, Ruth's Mission is also accepting canned goods to help families get through the winter. "One can of food will feed a family of four," says Johnson.
Ultimately, Ruth's Mission hopes to inspire others to act for the good of the community.
"I believe we sometimes get so caught up in our daily lives, the things we have to do, that we forget that others in our community are in need. I'm hoping that this program will branch off and get other people to take a moment out of their busy schedules and remember that there is someone out there that needs our help," says Johnson.
For more information on volunteering or donating to Ruth's Mission, please contact Robyn Johnson at 257-8702 or Courtney Locus at 494-6192.
Photo: Volunteers with Ruth's Mission are not afraid to get their hands dirty, as they glean produce from local fields after they are harvested. The food goes to the Second Harvest Food Bank.