Chances are, that if you are connected to the Internet, you follow a blogger or two online. Perhaps you even have a blog of your own. You may use ads to help defray any cost –– or even to make money. And with a simple press of the button, you share yourself and your opinions with the world.
Now, imagine maintaining a blog in 1858. You write it out by longhand. Up to 100 times. And sell it for a $2 yearly subscription fee. Such was the historical endeavor of Harnett County native John McLean Harrington. Michael Ray Smith, PhD, a professor of communication studies at Campbell University, details Harrington's fascinating story in his recent book, A Free Press in Freehand: The Spirit of American Blogging in the Handwritten Newspapers of John McLean Harrington, 1858-1869. Smith will discuss his book and more on Tuesday, Feb. 7 at 7 p.m., at the Cumberland County Public Library Headquarters, 300 Maiden Lane. The event is sponsored by the Friends of the Library Author Visit program and is free and open to the public.
A native of Washington, D. C., Smith is an award-winning journalist and photographer and author of fi ve books. He has taught for more than 20 years after a 10-year stint in the newsroom. His "discovery" of Harrington's writings came about after moving to Harnett County and studying its history.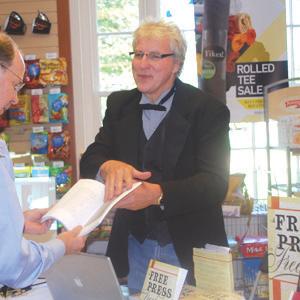 "He's a guy that deserves some kind of recognition," said Smith. "You may have heard of Paul Green, the playwright that created The Lost Colony. In my way of thinking, you couldn't have a Paul Green if we hadn't had a John McLean Harrington. Harrington kind of paved the way for other writers who created people. This guy wrote short stories in 1858. He was 18 years old. He wrote about marriages and obituaries and just routine kinds of stuff happening in the community. But he also had that literary quality. In 11 years, from 1858 to 1869, he authored 302 separate handwritten publications, and in some cases, he hand-copied them up to 100 times. It's staggering. Unbelievable."
Smith was surprised that no one had ever studied Harrington, and one can find irony in the detail that just up the road, UNC-Chapel Hill is home to one of the best journalism schools in the country.
"He's mentioned in passing. He doesn't have any roadside markers like Paul Green has. He was right here in Harnett County. You can go to Duke and see them [the newspapers]; you can touch them, you can pick them up and read them. They're very available, and they're historic artifacts, but no one ever bothered. I felt like Columbus. I had a discovery here. This is 1858. This is rural Harnett County. Things haven't changed much. There's some development, but there's not a lot of industry. I admire people who use their own God-given ingenuity to come up with something that's not just interesting, but it was commercial. He sold this. He sold each of his newspapers for $2 a year. And he has real strict terms: $2 in advance, and if you don't pay, you don't get your newspaper."
The son of affluent parents, Harrington attended the best schools, which at that time were all private, and by the time he was 15, he was a headmaster earning $158 for three months' work. As the postmaster of the Harrington Post Offi ce in Broadway, near Sanford, N.C., Harrington was fortunate to have a method of not only distributing his newspapers, but also collecting information.
"People would go there a couple times a week to get their mail, and he'd have the newspaper there," said Smith. "When people were getting their mail, they'd stand around and talk."
Harrington's newspapers included some display advertising as well. But Smith also notes that Harrington included some "weird" stuff in his paper, like ads from Philadelphia and New York, though most of the area's residents "had never been more than 20 miles from their home. He had to put it in there just to make it look more like a newspaper," Smith said.
Harrington wrote his newspapers, which included news, jokes and short stories, from age 18 to 29 and lived to be 48, but his life was not without turmoil. He never married, and unlike other able-bodied men of his area, did not serve in the military during the Civil War, nor did he support the Confederacy, considered treasonous at the time.
For more information, visit www.michaelraysmith.com.
Photo: Michael Ray Smith to speak at Friends of Library author visit on Feb. 7.