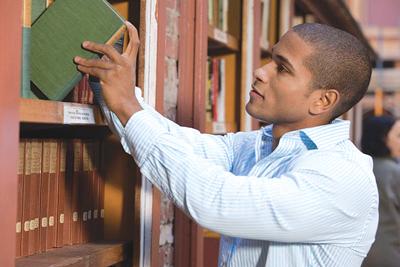 Want to earn money to pay for your education? Scholarships are defined as "money that does not have to be repaid or free money earned because of per-formance." Fayetteville Technical Community College (FTCC), businesses, religious and civic organizations, employers, philanthropic associations, individuals, colleges and universities, community agencies and foundations offer free money in the forms of scholarships, stipends or grants to fund educational goals. Do you assume that scholarships are unavailable to you because you do not have a 4.0 grade-point average? This is not only a fallacy, but will stop you from researching and applying for scholarships.
What is required and when is the best time to apply for scholarships?
FTCC's curriculum areas of study (business programs, college transfer, general-education programs, engineering, public service, applied technology programs and health programs) offer numerous scholarships. Many of these scholarships may require no more than maintaining a "C" (2.0 GPA) or enrolling in relative programs. Yet, all educational scholarships, stipends or grants require that you take the initiative to research scholarship availability, complete the application process and meet deadlines (often beginning as early as January for consideration during the fall semester). Imagine the feeling of success (master student equals mas-ter employee) when you inform a potential employer that you financed your educa-tion through scholarships, stipends or grants.
How do I find scholarships that pertain to me?
The Financial Aid Office, Career Center at FTCC, College Foundation of North Carolina (CFNC.org), online scholarship search engines, individual consults with colleges and universities, Google searches and sundry websites have numerous scholarships for which you may qualify. Include information that is unique to you, such as gender, ethnic background, academic achievement, demographics and major. You will be surprised by the diversity of scholarships available. Scholarship categories are almost endless and are inclusive of allied-health professionals, left-handed people and dislocated workers. Scholarships are available for teaching, nursing, accounting, fashion designing as well as business majors, high school graduates and minority scholarships, first-generation college students, single parents, creative writers, wacky scholarships, working moms and/or women over 50 years of age, moms going back to college and for heads of households.
How progressive and motivated am I?
Because many students are not willing to research and expend the time and effort to apply for scholarships, there are hundreds of millions of dollars in scholarship mon-ies available in the United States, and many — if not most — of these scholarships are attainable by regular students with regular accomplishments. The processes of working diligently toward academic progression, willingly conducting research, following directions when completing scholarship forms/assignments and meeting required deadlines in the pursuit of excellence are all opportunities that master students embrace. Students who go beyond what is expected to experience successful educational goals are usually students who receive awards and/or free money (scholarships) to pursue higher-educational goals.
Will a scholarship enhance transferable skills and help secure employment in a global economy?
Earning scholarships and other educational awards demonstrates transfer-able skills for which Fortune 500 business enterprises willingly pay megabucks. Students who receive scholarships for outstanding academic performance are the individuals who usually get the most lucrative jobs and/or enroll into bachelor and graduate degree programs. Why don't you cash in on the financial and employability re-wards of scholarships?
Photo: Scholarship categories are almost endless.