Fayetteville is historically and culturally relevant on many levels. With a rich Gaelic history, a Revolutionary War and a Civil War connection, strong military ties, deep African-American roots, wonder-ful architecture and a bevy of international eateries it can be taxing to get a handle on it all. The Fayetteville Area Convention and Visitors Bureau recognizes the treasures that the area has to offer and seeks to share these gems in fun and useful ways that connect both residents and visitors to what Fayetteville and Cumberland County have to offer. One of the many ways they do this is with Cultural Heritage Trails. The FACVB offers more than 750 miles of themed driving trails that educate, engage and enlighten visitors. They are self-guided and self-paced and include most any topic you can think of that relates to the area.
The newest of these trails is the Antiquing Trail. There are more than a dozen shops in the Fayetteville area that offer a wide range of items. Whether you are looking for vintage furniture, housewares, clothing, toys, jewelry or Civil War memorabilia it is worth a look.
Scattered throughout the area, a day on the antique trail promises to be a true treasure hunt.
Old Heritage Restoration Inc., is located on Williams Street in Fayetteville, and has been in business since 1979. Not only does the business provide quality furniture restoration, including fire and water damage and transportation damaged furniture, they also sell furniture and accessories. Owner, James Canaday Jr. recognizes good quality when he sees it and enjoys being able to offer his customers something they won't find anywhere else. If you are not in the market to make a purchase, but are looking to restore a family heirloom or other piece to pristine condition, Canaday is your man. He's passionate about the quality, beauty and charm found in older furniture and has spent more than 30 years providing Fayetteville with great quality workmanship and unique furnishings.
"The furniture industry has drastically changed over the last 30 years," Canaday said. "Many of the items we sell are technically not antiques, but they represent a quality and style we will never see again."
What began as a hobby digging up a piece of Roseville pottery on the family farm, has shaped Canaday's vision for his business and drives what he offers his customers. Give him a call at 484-6767. Even better, stop by and see what treasure is waiting to come home with you.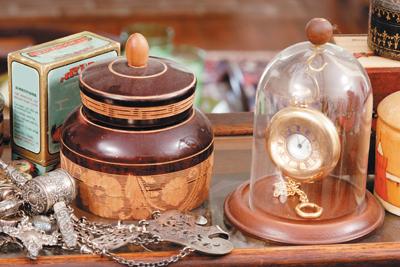 Not Quite Antiques opened its doors six years ago on Roxie Avenue. Since then, it's relocated to 2829½ Raeford Rd.
It was her love of auctions, estate sales and "junking" that led Dr. Deon Faillace to open her shop.
"We got tired of hearing that you had to go to Wilmington or Pinehurst to find a cool antique shop," said Faillace. "We are the most eclectic shop in Fayetteville. Every day we discover something unique and special for our customers. We are friends helping friends who share a passion for recycling, repurposing and supporting our local small businesses and neighbors."
Not Quite Antiques has a vast selection of mid-century modern items, country primitive pieces, work by local artists and quality consignments.
Stop by the shop, or give them a call at 323-0300 to find out more about the treasures they offer.
The FACVB website has more detailed information about the antiquing trail, as well as the many other driving trails they offer at www.visitfayettevillenc.com/cultur-alheritagetrails.
Photo: The FACVB Antiquing Trail offers a variety of treasures, deals and fun!