Most people have heard of Easter Seals, but some are more aquainted with the organization than others — especially those whose lives have been touched by someone with autism or other disabilities.
On a broad level, the organization "offers help, hope and answers to more than a million children and adults living with autism and other disabilities or special needs and their families each year. Services and support are provided through a network of more than 550 sites in the U.S. and through Ability First Australia. Each center provides exceptional services that are individualized, innovative, family-focused and tailored to meet specifi c needs of the particular community served."
Locally, the Easter Seals United Cerebral Palsy (UCP) North Carolina & Virginia provides services through the Easter Seals UCP Dorothy Spainhour Center.
Like all children's centers that work with special-needs kids, the Dorothy Spainhour Center always needs new equipment and updated resources for the many services it provides. On May 5 from 10 a.m. to 2 p.m. Century 21 Family Realty is sponsoring a yard sale/bazaar to raise funds for the center. The bazaar will be held at 2653 Hope Mills Rd., at the Century 21 Family Realty office.
"Century 21 and Easter Seals are national partners and Susanne Sattelmayer of Century 21 came to us a couple of months back to tour the center," said Amanda Hurlburt, early childhood specialist at the center. She wanted to do some fundraising for us and wanted it to stay local — specifically for our center."
Funds raised are earmarked for playground improvements, classroom improvements and therapeutic equipment.
"This is actually the third fundraiser she has done for us," said Hurlburt.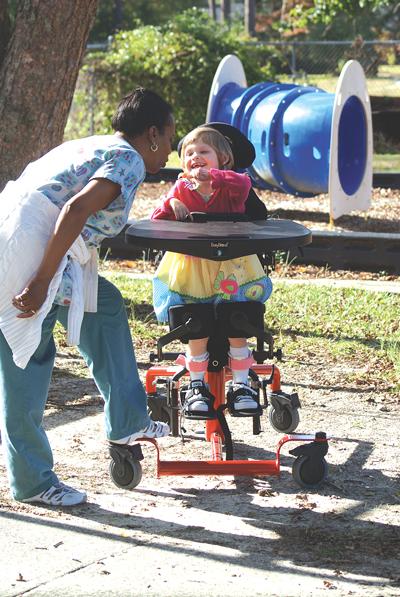 In addition to yard sale items, the bazaar portion of the fundraiser includes 31 Gifts, Tastefully Simple, Dove Chocolates, Scentsy, Pampered Chef. The Twisted Jeweler is also scheduled to attend.
While the Dorothy Spainhour Center does partner with Easter Seals, the center also accepts children without developmental needs, providing a safe educational environment for kids from 6 months to 12 years old.
"Children receive therapies on site in class room, speech, occupational, physical and developmental, therapies," said Hurlburt. "We serve kids with I.E.P.s (Individualized Education Programs) through Cumberland County Schools. Some children come here as their classroom placements."
Any child qualifi es to attend the Dorothy Spainhour Center. They don't have to have special needs to take advantage of the great programs that the center offers. Children who attend the Dorothy Spainhour Center benefi t from programs like N.C. Pre-K (formerly More at Four) and Kindermusik.
The center recently had local dentists visit the school and talk to the kids about dental care. The center also offers before and after care. Prices are based on the services provided and programs the children participate in.
To learn more about the Dorothy Spainhour Center and its programs, call 483-7283 or stop by for a tour.
Photo: The Dorothy Spainhour Center meets the needs of a number of children in Cumberland County. Its programs are designed specifi cally to help children succeed.