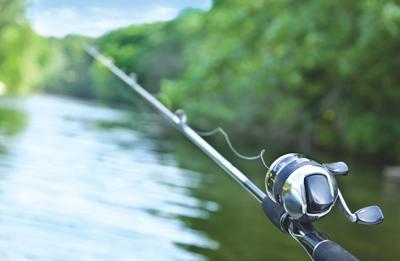 Break out the tackle box and grab your pole. It's time for the Swamp Boys Fishing to Fight Cancer Tournament. The event involves two key dates: The first is the May 12 captain's meeting at the Shrine Club in Hope Mills.
At the meeting, teams and sponsors mix and mingle, enjoy a dinner, register for the tournament and just have a great time. There is a live auction with items like children's painted flowers pots and an autographed Tiger Woods poster.
"We have celebrities who send us different kinds of things," said event organizer Robert Kitchen. "A couple of Nascar drivers and country-music stars send autographed memorabilia. We also have people who donate things like deep freezers. Salons have donated gift baskets, too."
Last year was the first year for the auction, which brought in more than $2,000.
Music and games are a big part of the captain's meeting. There will be knot-tying games, plug chunking games, a BB-gun turkey shoot and an eel grab. The winner of the eel grab gets to keep all five eels to use as bait during the tournament. This event is for tournament participants and sponsors.
"No RSVP is needed but it would be good if you did," said Kitchen. "So we can make sure we have enough food and things like that."
Register at the captain's meeting and pay just $40. Participants get their wristband for tournament day if they register at the meeting.
If you can't make the meeting, there is still time to register on the day of the tournament. "Registration is open all day at Gander Mountain on Saturday (May 19), but it costs $60 if you wait till then," said Kitchen. "We urge everybody to come out and register on May 12. It is cheaper and less hectic than if you wait till the day of the tournament."
Participants can put their boats in the water at 6 a.m., but they can't cast a line until 8 a.m. on Saturday, May 19. "As long as you put in at the Neuse River or the Cape Fear River you are fine," said Kitchen. "You can go anywhere you want to once you are in the water, but when you back your trailer into the water it has to be Neuse River or Cape Fear River running over it."
There is no limit on team sizes, however Kitchen asks that all fi shermen obey the N.C. state laws on boat occupancy. "We don't want anyone getting in trouble with the game warden," said Kitchen "This event is supposed to be fun — and safe."
Weigh-in starts at 7 a.m. at Gander Mountain on May 20. All boats must be out of the water at 10 a.m. The weigh-in will finish up around noon and then the top three teams take a polygraph test.
With more than 100 boats and 400 fi shermen/women expected, there are plenty of prizes to go around. The winning team takes home $3,000, with $1,000 going to the second place winner. The third place team gets $500. Fourth through 50th places get products like tackle boxes and plaques. Several sponsors and local businesses have donated products, services and gift cards as prizes.
"If you know you aren't going to win but you may know you are a contender for 20th, it is still worth coming to weigh in," said Kitchen.
True sportsmen, the Swamp Boys return all of the fi sh to their rivers of origin.
"After they are caught, the fish are stressed out pretty bad," said Kitchen. "We use a product called Rejuvenade which is fi lled with nutrients, so the fi sh are rejuvenated when we put them back in the water."
Proceeds from the event benefi t St. Jude Children's Research Hospital. Last year the event raised $10,400 for St. Jude. The goal this year is to raise $15,000.
Find out more about this event at the Swamp Boys' Facebook page and at www.fi shingtofi ghtcancer.org.
Photo: The Fishing to Fight Cancer Tournament benefits St. Jude Children's Research Hospital.