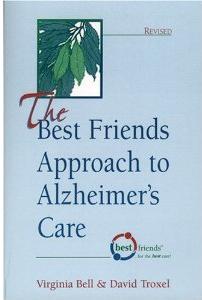 Be a Best Friend
The Home Instead Senior Care network's free Alzheimer's Disease or other Dementias CARE: Changing Aging Through Research and Education Training Program incorporates best practices in dementia care including The Best Friends Approach to Alzheimer's Care, written by David Troxel and Virginia Bell.
The book describes the importance of relationships in quality dementia care. A key way to build relationships, according to Troxel and Bell, is to know and use an indi-vidual's life story to deliver outstanding care and to treat the person with dementia with dignity and respect as you would a best friend.
"Every caregiver should know 100 things about the per-son in his or her care," noted Troxel, who served on the expert panel to develop CARE content.
"For instance, my mother was Canadian and loved Earl Grey tea with milk. When mom developed Alzheimer's disease and was having a bad day, I'd say: 'How about I make you a nice cup of Earl Grey tea just the way you like it?' And she would smile and it would turn a bad day into a good day," he concluded
The new Alzheimer's Disease or Other Dementias CARE Program encourages family caregivers to develop strategies to bring out the best in persons with dementia. When the person with Alzheimer's disease or another dementia feels safe, secure and valued, everything goes better.
Thus the family caregiver takes a walk with the loved one, enjoys look-ing at a family photo album, prepares some blueberry muffins, all while taking time each day to help the person dress, bathe, eat a healthy meal or perform other important daily activities.
"Persons with Alzheimer's might forget who you are, but you approach them with confidence and competence, they will respond," Troxel said. Examples include starting the day with a nice compliment (Dad, you look handsome in that blue sweater) and using their life story to talk with them.
Troxel said the new Home Instead Senior Care program stresses the benefits of helping the caregiver live in the senior's world, not the reality that individual can no longer manage.
"For instance, if Mom said President Eisenhower is doing a great job, her caregiver should say, 'I like Ike, too. Tell me about President Eisenhower. What do you like most about him?'"
For more about the Best Friends approach and the new Alzheimer's Disease or Other Dementia CARE program, visit www.HelpforAlzheimersFamilies.com.
To sign up for the new Alzheimer's Disease or Other Dementia CARE training offered in our community, email susan.guy@homeinstead.com. Classes will begin in August.
Photo: A key way to build relationships, according to Troxel, is to know and use an individual's life story.