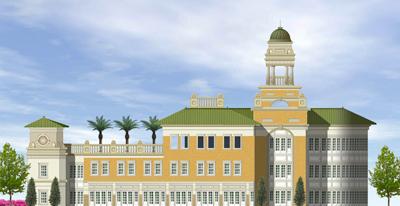 More often than not Bragg Boulevard gets a bad rap despite the fact that several businesses, cultural establishments and eateries are consistently recognized and voted "Best of" in our annual Best of Fayetteville Readership Survey. However, that image is changing as Bragg Blvd. slowly, but surely, is being revamped and revitalized with many new businesses and dwellings popping up. Residents and business owners are pleased with the progress and changes.
One of the newest developments on the boulevard is the luxury apartment complex, The Villagio which opened in 2011. At nearly 90% occupancy, it's been such a success that local owner/developer Rajan Shamdasani is continuing his Bragg Blvd. revitalization efforts with an aggressive new venture, The Pallazzo. The Pallazzo will be a luxury commercial condominium style office complex.
Shamdasani has called Fayetteville home since he relocated here more than 44 years ago after being impressed with the area and the local hospitality he received here during his business trips. "Fayetteville is a phenomenal place" states Rajan, "and we have been so fortunate that this gracious community has embraced all of our endeavors." Many people feel the same way including Fayetteville Chamber of Commerce President, Doug Peters, who said it's refreshing to see such a strong commitment to local economic development as Rajan's and to actually share in the excitement of watching his dream become a reality. Like many others in the community Peters feels that the Shamdasani family is a major force in encouraging and driving investment into our region. "Rajan Shamdasani represents not only a variety of businesses in the community but also a family with great vision, values and commitment. Shamdasani's passion for the Fayetteville community is clear and evidenced by his actions as an entrepreneurial pioneer developing, and redeveloping, the Bragg Boulevard corridor." says Peters.
It will be impressive. The 32,523 sf Pallazzo complex will be high-end office condos offering local businesses luxury office accommodations with amenities commonly found in larger metropolitan cities. Amenities like WIFI throughout, a luxurious and spacious lobby, several large meeting rooms and an enchanting roof top garden complete with a walking trail. It's commercial office space but, like residential condos, the tenants can own their own customized space and build equity in their investment.
To create The Pallazzo, Shamdasani gathered input from local businesses and community leaders about how to best meet the needs of the tenants. His vision, along with the painstaking evaluation of ideas from four architectural firms, resulted in its unique style and will speak volumes to showcase our businesses, community and future economic development partners.
Everyone is excited about the project. "This is going to be the only office building in Fayetteville with a roof garden complete with a walking trail and a covered area," said Project Manager Dee Taylor. "You can have picnic tables and can eat out or even have meetings up there. We are looking to revitalize the area as well as go green and this is the common sense way to do it. It will be good for people who work there, good for the environment and it just makes sense. It will be something you just don't see in Fayetteville, yet." Taylor added that even though there are detailed conceptual drawings, initial tenants/owners who purchase early will have a greater opportunity to provide design input to customize their space. "This a great opportunity and investment for anyone who needs office space - doctors, lawyers, contractors, you name it," said Taylor. "As we know what tenants are looking for we can accommodate their needs to make this a space perfectly suited to their needs."
Rajan Shamdasani is planning a special reception on June 27 from 5:30 to 7:30 p.m. at the Villagio to share his vision with local businesses and community leaders and provide them the opportunity to view the plans of the complex. It is this type of vision and investment that keeps our community growing.
Photo: Rajan Shamdasani's vision of the Palazzo.