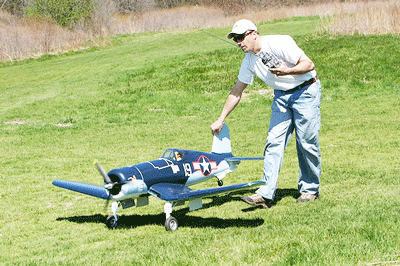 Excitement spreads across the face of a young boy as his mother hands him a used remote-control car she found at a local yard sale. It wasn't just any remote control car, it was identical to one he had recently lost when their home caught on fi re. The Piedmont Aeromodlers Flying Club also knows the joy of remote controls. The club builds and fl ies all types of model aircraft.
On July 28 from 10 a.m. until 2 p.m., you can join in the joy and wonder of flying as the Cliffdale Regional Branch, Library hosts the Radio Controlled Static Airplane Show. Radiocontrolled static airplanes are scale modeled airplanes. The aircraft are normally built by the flyer, but can be purchased and are controlled by a transmitter. Radio signals are transmitted through the controller, which the pilot operates, to a receiver inside the aircraft.
The airplane show will feature various types of model aircrafts, and showcase flying masterpieces and their builders. Some of the builders have been flying model aircraft for more than 37 years. Aircraft flown will be controlled from a small box (remote control) and vary in wing span from 24 to 120 inches. These flying wonders will delight the hearts of all ages. A flight simulator will also be at the library during the show where visitors can experience flying a simulated aircraft.
This show is just one of the exciting features that the Piedmont Aeromodlers Flying club brings to the Cumberland County area. Located off of Haywood Road, this club is a high flyer when it comes to charities and local fundraisers. They have participated in supporting the Falcon's Children's home, Toys for Tots and other local fundraisers. Flight instruction is also available for children at the Academy of Model Aeronautics.
Each year, three main events are held by the club. These events are: the Aerobatic Contest, the Fun Flyers and the Scale War Bird, all of which are open to the public. Novices as well as experienced model flyers are encouraged to attend. The Aerobatic contest spurs interest from Florida all the way to Pennsylvania, the Fun Flyer's event is normally held in the spring and features larger model aircraft, and around November, the Scale War Bird event features military or war related planes. For information regarding the Flying Club, go to www. piedmontaeromodelers.com.
If you are interested in modeling airplanes, intrigued by aircraft, or simply fascinated about aeronautics, take off to the air show. The pilots who have so caringly and carefully crafted these models would be delighted to see you there. Perhaps as they share their love of fl ying and model aircrafts you would be inspired to start a modeling hobby of your own. Or perhaps you may be inspired to soar in your life, to take fl ight past the blowing winds and demands and gain control. If nothing else you will have a chance to experience some outstanding fl ying works of art.
Photo: The airplane show will feature various types of model aircrafts, and showcase flying masterpieces and their builders.