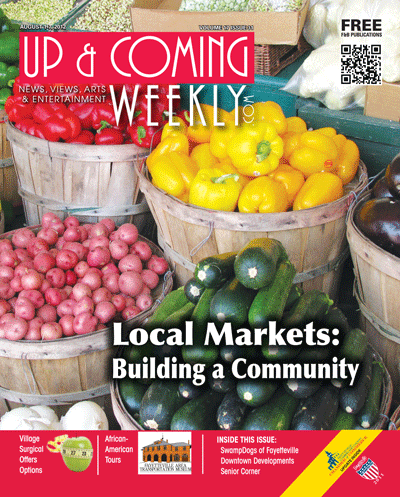 If you haven't been in a while, head over to the Fayetteville Area Transportation and Local History Museum on Wednesday afternoons and Saturday mornings. You may be pleasantly surprised at what you find.
The Fayetteville Farmers Market and City Market have joined forces with the museum to provide a destination where patrons can shop, learn, relax and be entertained. On Wednesday afternoons and Saturday mornings the parking lot of the Fayetteville Area Transportation Museum is filled with farmers, artists and entertainers … and the hundreds of people who come out to enjoy the market each week.
Bruce Daws, City of Fayetteville historic properties manager loves seeing all the activity just outside the museum, because of the opportunities it provides both the vendors and the patrons. "We host both the events as the Market at the Museum. We provide the space and block the parking lot and help set up with logistics," said Daws. "The museum opens its agriculture exhibits because of the ties between historical agriculture and today's farmers. It also provides an opportunity for people to cool off during the heat of the day and learn a thing or two."
He added that the goal is to create a destination that will draw people to the market not only to buy fresh food and local, high-quality art, but to spend time downtown getting to know the vendors, local businesses and organizations and become invested in the community.
Like other farmers markets, the Fayetteville Farmers Market offers fresh produce and seasonal vegetables — and more. "We have 24 vendors. Some just sell certain products like blueberries and other berries," said Crystal Butler, Fayetteville Farmers Market president. "Some new vendors are coming this fall that have pumpkins and sweet potatoes and things like that. We have vendors selling baked goods, we have local honey, fresh flowers, organically raised beef, lamb, chicken and pork. You can come to the market and leave with an entire meal."
Don't just come and grab a few tomatoes and head home though. Every second Saturday the Farmers Market offers kid-related activities, and the vendors are eager to educate their customers, too. "The farmers enjoy talking to their customers about what it takes to get their food from the farm to the table. There is so much that goes into it that most people don't event know about," said Butler. It is a system that works. "You meet someone new every Saturday. Once you start talking to them and they walk around and see how good everything is they always come back. You (the vendors) get to know a lot of customers on a first name basis. It is rewarding and you know your hard work is worth it."
Daws sees the Market at the Museum as an event with a lot of potential. The intent is to bring more people downtown and to create an event that is family friendly. "We like to encourage people to come down and spend time," said Daws. "That is why we set up rocking chairs and we have a band that plays for the crowd. It is to create an event that supports the revitalization of downtown. It is working very well. On an average Saturday we have anywhere from 300-400 visitors or more."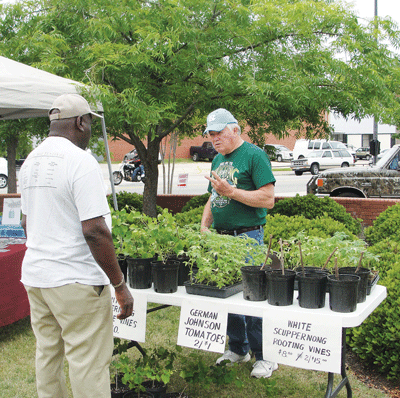 So far it is working, the Farmers Market opens an hour earlier now on Saturdays. "We used to open at 9 a.m., but we would get here and have people who had been waiting since 8 or 8:30 a.m. for us to open so we moved the time up," said Butler. "We don't want to miss a chance to connect with the people who come to the market."
The City Market vendors consist of handmade, original crafts such as pottery, hand-blown glass, organic soaps, soy candles, glass crocheted jewelry, blended teas and herbs, custom water colors and signs, fabric jotting books for your inner poet, wreaths, birdhouses, original photography and much more. Local musicians appear regularly and serenade the crowd with their mellow tunes. Face painting, clowns, balloon animals, ring toss and a bounce house are just some of the family friendly activities that can be enjoyed on any given Saturday morning.
"We hope to add antique vendors to the market soon," said Daws. "Of course, like the rest of our vendors, the antique dealers will go through an approval processes so that we can make sure our patrons are getting good quality items."
The Market at the Museum is open on Wednesdays from 3-6 p.m., Saturdays from 8 a.m. – 1 p.m. and during 4th Friday celebrations. Find out more about the Farmers Market at www.thefayettevillefarmersmarket.com, or by calling 703-7708. To fi nd out more about the City Market or the Fayetteville Area Transportation and Local History Museum call 433-1944.
Photo: The Fayetteville Farmers Market and City Market offer fresh foods, art and entertainment and more.