When a patient is having a heart attack, nearly 85 percent of the damage occurs within the first two hours. That's why hospitals work so hard to get patients to the cath lab as quickly as possible.
Recently Cape Fear Valley Health added special equipment to its ambulances that can cut this time dramatically. The LIFENET system, purchased with a $76,640 grant from the Cape Fear Valley Health Foundation, allows paramedics to transmit EKGs to emergency department physicians in real time. The goal is to reduce time to treatment, known as door-to-balloon time, for patients who experience a dangerous type of heart attack known as STEMI (ST-segment Elevation Myocardial Infarction).
D2B time refers to the interval from patient arrival at the hospital to infl ation of the balloon catheter within the patient's blocked artery — the shorter the D2B time, the greater the chance of survival.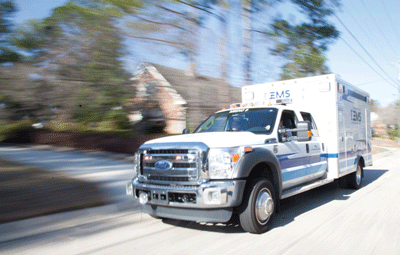 This equipment made a real difference for 80-year-old Phillip Outterbridge, who lives in western Cumberland County. Outterbridge's D2B time was an incredible 12 minutes. A 90-minute D2B time has become a core quality measure for hospitals nationwide.
It all started when Outterbridge suddenly became weak, started sweating and became short of breath. The pain in this chest was unrelenting. A widower who lives alone, he called his neighbor, Marion White, to drive him to the hospital. "Phillip called me and told me he wasn't feeling good," said White. "He was sweating and couldn't breathe. I knew the right thing to do was to call 911. I'm not a doctor or nurse, but I knew from my first-aid training in the military that it could be a heart attack."
First responders from Fayetteville Fire Department's Station 8 arrived first. Shortly thereafter, EMS arrived and paramedics hooked Outterbridge up to the 12-lead EKG at 1:22 p.m. The Emergency Department physician could see the EKG in real time, and a code STEMI was called at 1:23 p.m. The paramedics began treatment en route to the hospital.
Once the ambulance arrived at Cape Fear Valley Medical Center's ambulance garage, paramedics took the patient directly up the express elevator to the cath lab where Dr. Ginn, an interventional cardiologist, and the cath team were waiting.
Dr. Ginn already knew what to expect. He was able to read the patient's EKG sent from the fi eld to his smart phone, so he knew the blockage was located in the right coronary artery, the vessel that supplies blood to the bottom part of the heart. That advance knowledge led to the incredible 12-minute D2B time.
Thanks to Cape Fear Valley's electronic medical record, Dr. Ginn was also able to pull up Outterbridge 's previous medical records before the patient even arrived at the hospital. That gave Dr. Ginn additional information he could use in planning Outterbridge's treatment.
White's decision to call 911 probably saved Outterbridge's life. Too many people take a "wait-and-see" approach when faced with warning signs of a heart attack — and that can be a fatal mistake.
Outterbridge says, "Dr. Ginn told me I got there in the nick of time. He told me I should go home and hug my neighbor." And Outterbridge did just that.
If you would like to be a part of saving lives, Friends of the Heart Center invites you to our fi rst In Step with the Beat Dance. This dance features beach music by the Entertainers. This event will be held on Saturday, Sept. 22, from 8-11p.m. at SkyView on Hay in downtown Fayetteville. Tickets for the event are $50 per person and include the entertainment, heart-healthy hors d'oeuvres and beverages. For more information, tickets or sponsorship opportunities, please contact Rachel Richardson at (910) 615-1449 or rrich2@capefearvalley.com. Come get your Shag on and help save more lives!
Photo: Paramedics can now transmit life-saving EKGs to the emergency department in real time.