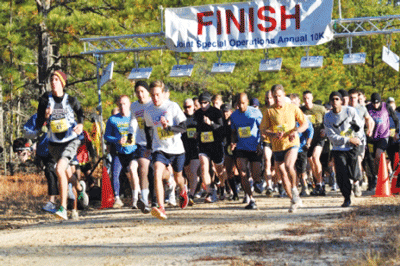 The starter's gun will fire at 8 a.m. sharp for the 16th Annual Joint Special Operations 10K Run/5K Walk. This year's edition will take place on Nov. 10. The race, started in 1996, has grown to the point where entries will be limited to 1,000 runners and walkers.
The course is a challenging dirt, mud, gravel and sand trail and is open to all ages and abilities. While a majority of runners come from the Fort Bragg community, there are a number of participants from all across the state as well as some out-of-state runners. All-terrain strollers are acceptable but a standard sidewalk model will not be able to negotiate the course. Pets are not permitted.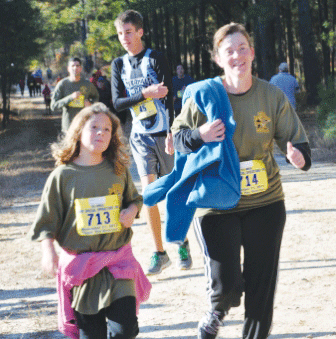 The race, certified by USA Track and Field, is sponsored by the Special Operations Communicators Association. The association's mission is to promote the values established in the Special Operations Forces Truths and Imperatives. It is also an organization that strongly believes in taking care of the operations communicators family. Moral, spiritual and financial outreach is extended to members and their families who need a helping hand for the loss of a loved one, disaster relief and also serves as a morale fund for association activities. Monies are raised via the 10K run, a golf tournament and donations to support scholarships for spouses and college-age dependents of active-duty members of SOCA members.
Todd Spencer, race coordinator since 2007, shared his feelings about the event. "There is something special about leading the runners out on the ATV. The morning is brisk and I look behind me and it's like a thousand wild horses, cold breath clouding, awaiting the charge. The morning mist is rising from the lake and there is a wave of energy when the starter's pistol cracks the air".
Putting on an event such as this can be a logistical nightmare. Every detail is important.
"Since I have been associated with this event I have been continually amazed at the level of excitement and professionalism our volunteers bring to the race. From pre-race preparation to after-race festivities, everything is taken care of. This is unlike any other race in Fayetteville," Spencer said.
The entry fee for the race/walk is $25 if received by Oct. 26, and $30 thereafter with shirts available to all participants. Registration can be accomplished on-line at www.active.com or via the SOCA website (www.thesoca.org) and by downloading the application found at 10K Documents. Entries can be mailed to SOCA, Box 73409, Fort Bragg, N.C. 28307.
Pre-Race packet pick-up with t-shirts will be available on November 8th at Sports USA between 3-7 p.m. and the following day Nov. 9 at Dicks Sporting Goods on Skibo Road between 12-3 p.m. Late registrations will be accepted at these locations.
Photos: The Joint Special Operations 5K Run/5K Walk is a great event for seasonsed runners and for families.