Since the turn of the century when the use of safe electric lighting became possible, people have been warding off the dark of winter and celebrating the Christmas season with light displays. Prior to the invention of light strands run by electricity, the only way to light the darkness was by candle power. Dating back to the 17th century, families would actually light their Christmas trees with live candles, but the danger of fire limited the lighting to short periods of time under carefully supervised conditions.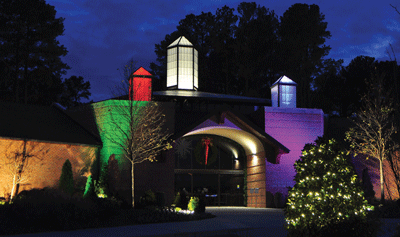 Fast forward to today, and we have a seemingly limitless supply of lighting choices. One trip to the seasonal aisle of your local home-improvement store and you may actually have a hard time deciding what type of lights to purchase. We have traditional incandescent bulbs or LED in a variety of shapes and sizes, fi ber optics, multi-colored, clear, bubble, mini, icicle, rope strand, globes and more. The options can be mind boggling.
Thankfully, many organizations, and even individuals, host special holiday light displays for us to enjoy. One of the best displays in the Fayetteville area can be found at the Cape Fear Botanical Garden. Located at 536 N. Eastern Boulevard in Fayetteville, last year's display drew over 4,000 visitors.
Now in its second year, the garden will be running Holiday Lights in the Garden from Dec 14-29. Show times start at 5:45 p.m. and run through 9 p.m. The last entry each evening is at 8:15 p.m. The garden will be closed Dec 24 and 25.
With more than 40,000 lights, this show is sure to amaze. The light displays have been expanded this year and now include the water wise garden and Heritage Complex. The farmhouse and country store will also be open for viewing. On select evenings, special choral and instrumental groups will perform holiday music.
Ribbit the Exhibit has also been lighted and will continue to run through the end of December. If you have not yet had a chance to tour this whimsical art display you will be able to view this as well.
This walking tour is handicapped- and stroller-friendly, and can take approximately 45 minutes to tour. New Deli Cafe will be open for guests to purchase seasonal refreshments and hot drinks. The gift shop will be open as well.
If you want to avoid the crowds at the mall, never fear. Old Saint Nick is also paying a visit to the garden. There will be a professional photographer so you can purchase photographs of your children's visit with Santa. While taking photographs in the garden is encouraged, please no personal cameras with Santa please.
Tickets for adults are $4 for members and $8 for non-members. Tickets for children 6-12 are $2.50, and children under 5 are free. Tickets can be purchased online for a small fee, in the gift shop or by phone. While tickets can be purchased at the door, it is recommended that you purchase them ahead of time.
Please visit www.capefearbg.org for more information or call 910-486-0221. Please be aware that while the Cape Fear bridge is under construction, the road is open and accessible to the gardens.