To say Kay Yow is a legend is an understatement. She was the N.C. State Wolfpack women's basketball team head coach from 1975 to 2009. With more than 700 career wins, and a member of the Naismith Hall of Fame, Yow was an inspiration to many, not just for her great coaching skills, but for her fighting spirit.
Yow was diagnosed with breast cancer in 1987 and after three bouts with the disease she passed away on Jan. 24, 2009. On Saturday, Feb. 2, Fayetteville State University will get into the game by hosting a "Ball in Pink" basketball game against its rival St. Augustine's University. .
The event is part of the Play 4 Kay campaign sponsored by the Kay Yow Cancer Foundation. The Play 4 Kay program (formerly known as WBCA Pink Zone) encourages coaches across the nation to increase breast-cancer awareness and raise funds for breast-cancer research. The program has raised more than $2 million for women's cancer research since 2007.
Breast cancer survivors and family members are eligible for free admission and special seating in the chancellor's section. After the game, breast cancer surivivors and family members are invited to a reception. The group will also be recognized during half-time of the nationally televised men's game. If you are interested in attending, contact Kevin Wilson at 910-672-2565 or email kwilso10@uncfsu.edu. The deadline is January 21. Support the cause and wear pink to the game. Better yet, help raise funds for breast-cancer research by purchasing a "Ball in Pink" T-shirt at the FSU bookstore before the game. To make a donation, visit www.play4kay.org, click "donate to the team" and select "FSU Broncos." All of the proceeds benefit the Kay Yow Cancer Foundation and the Cape Fear Valley Health Foundation Friends of the Cancer Center.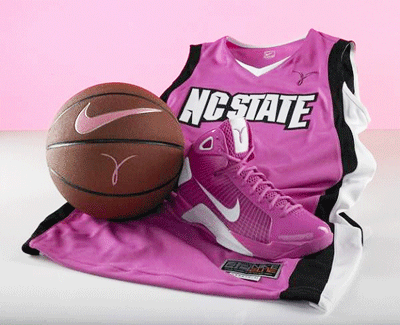 The women's game starts at 1 p.m. followed by the men's game at 4 p.m. There will also be a silent auction at the game.
Methodist Monarchs
On Feb. 16, Methodist University will also celebrate Play 4 Kay at a 2 p.m. game. Fans who wear pink to the game will be admitted free with a donation to support breast-cancer awareness. The team will wear pink shirts to support the cause as well. Purchase a T-shirt or pint glass to remember the event. Items are available before the game or at www.mumonarchs.com/sb_output.aspx?form=16. During the game, fans are encouraged to participate in the silent auctions. Items up for bid include autographed items, special golf packages and more.
Breast cancer survivors will be honored during half-time. This is yet another way that the university seeks to raise awareness about this invasive killer. In the past four years, this event has helped Methodist University Monarchs raise more than $15,000 to support breast-cancer research and awareness.
"Kay Yow has always been an inspiration to me — not only as a coach, but as a player," said Methodist's Head Coach DeeDee Jarman. "She was devoted to North Carolina State, the Kay Yow Cancer Fund and the game of basketball; we are delighted to have the opportunity to give back."
To find out more about this event, contact the Methodist University Athletic Department at (910) 630-7175 or visit www.mumonarchs.com/play4kay.
Breast cancer survivors interested in participating in the event should contact DeeDee Jarman at (910) 630-7283 or djarman@methodist.edu
Photo: Ball In Pink games raise money to support cancer research through the Kay Yow Cancer Fund.