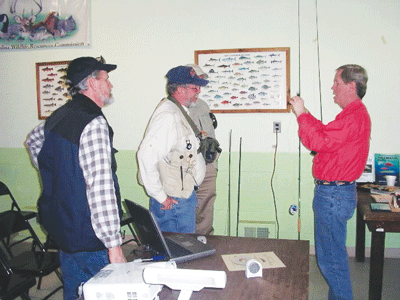 For thousands of years people fished. It began simply as a way to hunt the food found in the water, but over the years it has developed into a sport — and for many an art form. Fly fishing is one such form of fishing, and it is arguably one of the most challenging. This winter, the John E. Pechmann Fishing Center offers several classes. A class is scheduled for Jan. 19.
Fly fishing is a unique form of fishing that requires specific movements for casting the line. The fisher uses a lure made to look like a fly. Through casting techniques the fisher simulates the landing and movements of a fly on the water. Often, fishermen tie their own lures out of strings and hair so that they resemble flying insects. Traditionally, fly fishing is practiced in cold mountain streams, but it can be practiced anywhere. Most all species of fish respond to the movements simulating flies.
"That is one of the things we point out," said Tom Carpenter, a program coordinator at the John E. Pechmann Fishing Education Center. "Traditionally, when people think of fly fishing they think trout or salmon. What we show them is that you can fish farm ponds for blue-gill bass, you can fly fish warm water streams, you can fly fish at the beach for speckle trout … you are not limited to any particular species of fish. It is wide open to what you want to do with a fly rod."
It is never too late to learn a new form of casting, and with that in mind the John E. Pechmann Fishing Education Center offers several fly fishing classes for beginners. In this class, participants will learn the basics of casting and knot tying according to regulations and ethics.
The Pechmann Center has revamped its fly-fishing courses for 2013, and Carpenter sees it as a good thing for students.
"Our primary focus is the basic casting instruction," he said. "We provide some instruction for knots and we also have some handouts that help students with fly selection."
After class, students put their new-found skills to use and head over to the two stocked fishing ponds on the property to practice their new skills.
"We usually have quite a few people catch some trout when we take them to the ponds," said Carpenter.
One of the things that students appreciate about the course is that handling a fly rod is more of a challenge than reel fishing. "One of the things to remember about fly fishing, as with any sort of fishing, is that it is a life-long learning experience," said Carpenter. "We have to understand what the fish feed on, what time of day they eat and how the weather might affect the fish. We learn all these things so we can become better fisherman. It gives you a better understanding of nature as well."
The class is taught with the help of several experienced volunteer instructors. Each class can accommodate 40 students and classes fill up quickly, Carpenter noted.
The class requires preregistration and costs $5 per person. Registration begins Dec. 3 at Lake Rim Park. The fishing education center will provide all equipment, but it is advised that participants bring eye protection and a brimmed hat.
The beginner classes will be held on Saturday, Jan, 5, Jan. 19 and Feb. 2. All classes will take place from 8:30 a.m. to 3:30 p.m. The class is intended for participants aged 12 and up. The younger fishers must have a participating adult accompany them. For more information, call 433-1018. The fishing center is located next to Lake Rim Park at 7489 Raeford Rd.
Photo: Local sportsmen can learn the art of fly fishing at upcoming classes.