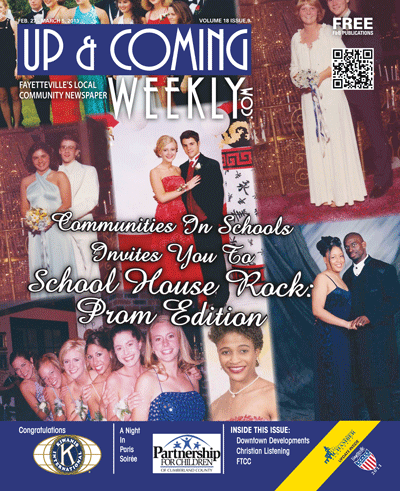 Remember your senior prom? The angst of waiting on that special guy to ask you, then finding the perfect dress, planning the perfect pre-prom dinner locale and the after-prom party. For most high school students, the weeks gearing up for the prom are nerve wracking. Here's your chance to attend your prom all over again, without the angst or worry. Join the Community In Schools-Cumberland County for an evening of fun at School House Rock: The Prom Edition.
School House Rock is one of the most anticipated fundraising events each year. Put together by the Communities in Schools-Cumberland County (CIS-CC) and its volunteers, the event brings the community together for a night of food, fun and dancing — all in support of the CIS mission, which is to to surround students with a community of support, empowering them to stay in school and achieve in life.
Working in more than 3,400 schools in 24 states and the District of Columbia, Communities In Schools serves more than 1.2 million students and their families each year. Locally, CIS serves students in 56 Cumberland County Schools. Communities in Schools is the nation's leading dropout-prevention organization, and the only one proven to both increase on-time graduation rates and reduce dropout rates.
Locally, the organization fulfi lls its mission through key programs:
Project Reads: Research shows that on average, low-income and minority students lose two months of reading skills during the summer. To combat this problem and encourage reading, CIS in partnership with Harvard University, is studying summer reading loss with an initiative called READS for Summer Learning. Local students receive 10 books over the course of the summer, complete questionnaires, and receive additional comprehension lessons. READS for Summer Learning, a five-year study, is funded by an i3 grant from the US Department of Education. Students at 10 elementary schools are participating in the initiative.
Yanoff Music Program:
CIS of Cumberland County in partnership with the Fayetteville Symphony Orchestra and Cumberland County Schools introduces classical music to all 4,500 third grade students. Created in 2004, this community collaboration brings a trio of symphony musicians into music classrooms around the county and provides each third grader with an arts field trip – a private concert with the Fayetteville Symphony Orchestra.
Fuller PLC:
The Fuller Performance Learning Center® opened in the fall of 2007 providing another learning option for our high school students and community. CIS of Cumberland County and Cumberland County Schools partnered to open this non-traditional high school with grant funding from the Bill and Melinda Gates Foundation. Students complete assignments using an integrated online and project-based curriculum. This small learning environment serves students on a 4×4 schedule who are not succeeding in a traditional school setting.
CIS Sites:
CIS is the nation's leading dropout-prevention organization and the only one proven to both decrease dropout rates and increase graduation rates. Through a school-based coordinator, CIS surrounds students with a community of support, connecting students and their families to critical resources, tailored to meet their needs. In Cumberland County, CIS serves more than 8,000 students, elementary through high school, offering a range of programming and services from enrichment opportunities and parent engagement, to mentoring and career exploration.
Teacher of the Year:
CIS-CC proudly sponsors this prestigious event that honors CCS' Teacher of the Year and also recognizes the district winners from each of the ten attendance areas throughout the county.
Educational Mini Grants:
Educational Mini Grants are a favorite among Cumberland County teachers with CIS awarding approximately $25,000 at an annual teacher-recognition luncheon each year. The program provides merit grants of up to $1,500 for teachers who have developed innovative classroom programs using special equipment, manipulatives or creative instructional materials.
Bill Harrison Scholarship Fund:
The Bill Harrison Scholarship Fund was established in 2008 by former Superintendent Bill Harrison in partnership with CIS – CC to assist a Cumberland County Schools graduate who plans to pursue a career in teaching.
The success of the organization is all in the numbers. Last year, 95 at-risk students graduated from Fuller PLC. Ninety-six percent of the students working with CIS were promoted, with a 90 percent graduation rate. Students showed both improved achievement in academents and attendance at 86 percent and 72 percent respectively. That success would not be possible without the support of the community, particularly support to its main fundraiser, School House Rock, every year.
This year's event, again held at the Highland Country Club, will focus on proms from the '70s, '80s and '90s — think "Stairway to Heaven," "Almost Paradise" and "I Don't Wanna Miss a Thing." Think blue tuxedo, puffy sleeves and material girls. If you can bring your prom back into perspective (or maybe even still fi t in your prom dress) then you are ready for this year's event. The prom starts at 8 p.m. and goes until midnight (don't worry, you're an adult now, you don't have a curfew). It features hors d'oeuvres and cocktails (yes that's right, you don't have to drink wine coolers in the parking lot). You can plan to dance the night away to music performed by Jump Street, a band that "stays true to its roots while performing a variety of musical genres, including classic Motown, contemporary R&B, Top 40, as well as the classic dance hits from every era."
Tickets for the event are $75 and can be purchased online at www.schoolhouserock.info or via mail by sending checks payable to Communities in Schools, PO Box 2882, Fayetteville, NC 28302. Your name will be added to the guest list. No tickets will be mailed out.