The competition is heating it up and performers are bringing it to semifinals of Huske Unplugged. In its fourth season, round two of the semifinals is tonight and you are not going to want to miss it.The semifinalists in the singer/songwriter competition are competing for a grand cash prize of $3,000, a day-long recording session at Manifold Recording and a scholarship for $15,000 to PCG Nashville. The fi nals are slated for April 17.
Huske Unplugged challenges bards to share their best pieces with the community, and maybe win a little cash, too. While it's a great opportunity for the songwriters, the real winners are the people who come to hear them perform. In its short existence, the competition has seen 96 individuals come out to share their work and entertain the crowds with their original pieces.
When Greg Biltz walked into Huske Hardware two years ago, he had no idea what an adventure this undertaking would be. "Honestly, I was looking for a gig for myself," said Biltz. "But when I started talking to Josh Collins (owner of Huske Hardware), I told him about programs like this that I had been a part of in Dayton, Ohio, and Columbus, Ga., — and he lit up and said 'Yeah, let's do it!'"
From its inception in 2011 Collins and Biltz took great care to cultivate the right atmosphere for Huske Unplugged.
"We don't want this to be American Idol Fayetteville," said Biltz. "From the beginning we knew that if we keep it about the material, we will get the songwriters, not just performers."
They were right. The word got out, and the songwriters came. Rockers and country songwriters; R&B songwriters and folk songwriters; metalheads and gospel-music writers came. Some were locals, others happened to be passing through and still others travelled from a state or two away to be a part of it. Some were looking for a chance to be discovered, others just wanted to be heard and share their work with a friendly crowd. The comeptitors come from many backgrounds and life experiences, with different skill sets and signature sounds — a perfect combination for a platform like Huske Unplugged.
The listeners came, too. And for the fi rst three seasons Collins happily fronted the cash prizes and enjoyed knowing that he was giving songwriters a place to call their own by offering up Huske Hardware as a venue. Dad to performer Summer Collins, Josh knows firsthand the many challenges songwriters and musicians face. This was a fun and easy way to make a difference not only for the songwriters, but it also provided the community with top-notch original entertainment.
It could have stopped there, but it didn't. By the start of the fourth season, Summer was making a name for herself in the music world and had been travelling to Nashville to further her career. That's where Josh met Bernard Porter of PCG Nashville. It is the mission of PCG to apply a customized scientifi c approach to development, producing balance in all areas of the artist's mind, body and spirit. The organization provides everything from branding, the voice and music lessons to health and nutrition classes — anything to help prepare their clients and give them the best chance at being successful in whatever musical genre they choose.
Porter admired Josh's dedication to the community and the songwriters who participated in Huske Unplugged. If the talent was anything like what he'd heard from Summer, Porter could make it work. He offered up a $15,000 scholarship to the winner.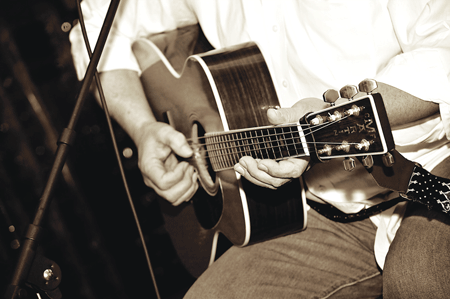 "We are in the science of artist development. We are set up like a doctor's office," said Porter. "It is my job to look into you, do diagnostics and assign what you will work on first to bring your craft to the highest level. Our involvement increases the likelihood of success. We are the musical equivalent of spring training for pro ball."
A successful musician in his own right, Porter is dedicated to making sure his clients understand what they are getting into. "It takes more than being a good singer or performer (to succeed) in this business," said Porter. "That is a very small part of it. You have to be able to sell yourself — you have to have confi dence. If God blessed you with the opportunity to be a role model, you have to act on it. It is about that awareness, being authentic, being disciplined and focused. We are very selective in who we choose to get involved in our programs."
On the eve of the final round, PCG Nashville will host a seminar for the finalists. It will be a chance for the songwriters to learn a little more about the music industry. "I want to be able to answer questions and help them as much as we can," said Porter. Then during the fi nal round, PCG Nashville will judge the event.
While PCG Nashville coming to Fayetteville is a big deal, Biltz is confident they won't be disappointed. "I believe they will see talent they have not expected. There are people in this competition that are going to knock them back in their seats. I think they'll be impressed with what we are doing," said Biltz.
With Nashville on board, Huske Unplugged is set to be a bigger success than ever before. But when Biltz heard about Manifold Recording in Pittsboro, he knew there was another call to make. Owner Michael Tieman took Biltz up on his offer to come to an open sign up night at Huske Unplugged. That was all it took for Tieman to sign on as a sponsor and offer a recording session as one of the prizes.
"I listened to the artists and the ones who ended up winning that night were some of my favorites," said Tieman. "They (Josh and Greg) were correct in telling me that Fayetteville has some diamonds in the rough."
Tieman performed as a boy soprano in Manhattan before moving on to work in the world of computer software. The technical side of the recording business interested him. "As I lamented the continual degradation of the quality of recorded music, I realized that as an entrepreneur this is not something I should complain about. This is something I should do something about. So I built a studio."
Like Porter, Tieman sees something bigger than just a songwriter competition in Huske Unplugged. "A lot of people talk about North Carolina in terms of what we have lost … jobs etc. I am also seeing a North Carolina that is building new things as well. I am excited to see how we might build a kind of North Carolina music that 10 or 20 years from now people will recognize. There is a lot of musical richness in North Carolina that needs to be heard and preserved."
Biltz is convinced that what the songwriters at Huske Unplugged offer up is worth hearing and preserving. So does local businessman Mike Lallier, who has generously offered to provide the award for the cash prize winners.
Indeed, Huske Unplugged has come a long way, baby and in a short time, too. But for Biltz the magic is in the music. "The beautiful thing about it is that we didn't know what was going to happen and now here we are ... I tell everybody that 'if you walk out with money or a slot in the semis, that is great,' but I am doing this to provide a venue to showcase their material."
The show starts at 8 p.m. at Huske Hardware, tonight. The fi nals are on April 17. Find out more at www.facebook.com/ HuskeHardware.
Photo: Huske Unplugged offers songwriters a chance to be heard. It offers the community first-class
original entertainment.