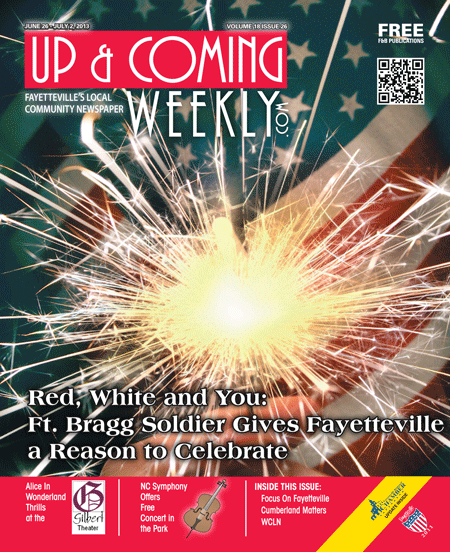 Even though sequestration put the brakes on Fort Bragg's 4th of July fireworks display, there will be plenty to celebrate downtown in Festival Park on our nation's birthday. Thanks to a local hero, there will be fireworks and fun galore.
A chance to still have a spectacular 4th of July event was made available when Destination America and USA WEEKEND Magazine teamed up and put together a contest called Red, White and You. The contest started in March and each participant had to write in 150 words or less why their hometown deserved the ultimate fi re-works bash. Two grand prize winners would be selected to win the ultimate fi rework show and each awarded $1,000 to be used towards one of the following local organizations: Parks and Recreation Department, YMCA/YWCA or Habitat for Humanity.
Jeff Wells, a Fort Bragg soldier, submitted the following award-winning essay: "Due to governmental budget cuts, there will be no post fireworks for Fort Bragg. Our post is home to more Army tradition than any other installation, has produced the most Medal of Honor recipients and is seen as the center of the Army Universe. To not have a fireworks display on our nation's day of independence for those who have fought to secure our freedom is not only a morale-degrading scenario but also a shame to those who have sacrificed so much. As an Army leader, I believe a fireworks event celebrating all that soldiers fi ght for would not just boost morale but also let them know that, despite our diffi cult fiscal times, they are not forgotten and still have the support of those they fi ght to protect."
The entry was chosen as one of the winners, along with the community of Union Beach, N.J. The City of Fayetteville has been planning the event. "Being able to offer citizens an alternative show and participating with Destination America and all they are doing for Fayetteville is exciting. And it's great to know they support the soldiers and help them and all citizens of Fayetteville and Cumberland County," Erica Brady, Parks and Recreation special events coordinator for the City of Fayetteville, said.
Charlotte Bigford, publicist from Discovery Communications had this to say about the entry. "After launching the Red, White and You contest in March, we received more
than 3,500 entries from Americans nationwide sharing moving stories of why their towns deserve an all-American celebration this 4th of July. One of the nominations came from Jeff Wells, who emphasized Fayetteville's status as 'a major military community forced to cancel its annual Fort Bragg fireworks display due to budget cuts.' We felt Fayetteville, a community that zealously supports its military partners at Fort Bragg, proved to be very worthy of an Independence Day celebration treating them to family activities, food, entertainment and displays of patriotism."
Many fun activities are planned and a variety of musical talent is scheduled. Three local artists from the Huske Hardware House Singer/Songwriter Showcase, the 82nd Airborne Chorus and The Mavericks, a country band, are performing. The National Anthem will also be sung and there will be the posting of colors. A free kids' activity area designed exclusively for children will be in Linear Park. There is all sorts of entertainment for them including infl atable obstacle courses, bouncy houses, face painting and temporary tattoos. Everyone can enjoy the food vendors, beverages and unique glow items for sale provided by Destination America.
"We hope to offer a family atmosphere and mirror the same service the Fort Bragg event had," Brady said.
This is a great opportunity for the Fayetteville region to take advantage of.
"It is very important for our community. It's the fi rst time and we should show support," Brady added.
Other local partners include Reed-Lallier Chevrolet, Huske Hardware House and the Arts Council of Fayetteville/Cumberland County. The festivities begin at 4:30 p.m. at Festival Park. The FIrework show starts around 9:15 p.m.