In a perfect world, children love school and learning. Parents have enough time, patience and money to give their kids the educational support they need and every teacher is a perfect match in teaching style and personality. In the real world, that is not always the case, and as students head into their teen years, overcoming education-related obstacles can be dif̀cult.
Enter the Teen Explosion Conference. On July 26, the Mind Over Matter Youth Development Institute, along with local businesses, colleges and community organizations in the area will sponsor the conference. The conference is designed with teens ages 13-18 in mind and provides critical skills that students need for a successful school year. While education is a topic to take seriously, Teen Explosion is about making the back-to-school transition both engaging and fun.
"There comes a point in the summer when teens are ready to go back to school — although they usually won't admit it," said event organizer Dr. Teresa Pinckney. "While this is a day of fun, the bigger piece is making the connection between school and a student's future. It is about how to excite students about their future and embrace that. It's about helping students understand that how you do academically will impact your ability to go to a good college, get a better job, have the skill required to be a successful entrepreneur. School is important but after graduation they need to know what possibilities they have for going to college, becoming an entrepreneur or getting job."
There will be interactive workshops, discussions and exhibits with great information that will help prepare teens for workforce and college readiness skills and even business men and women who will share information with the attendees. The day is ̀lled with activities that are designed to motivate, educate and inspire students. City Councilwoman Val Applewhite will be in attendance and a representative from the library will offer a workshop on job skills. Pinckney is especially excited about the entrepreneurs who support this effort.
"One of the biggest highlights is that we will have student entrepreneurs there," said Pinckney. "We have six college entrepreneurs, and they will provide insight about being a college student and being an entrepreneur. In addition there are several other small business owners scheduled to attend. It is important for teens to know that this is another option they have."
Local vendors will also be on hand with information about opportunities available for teens in the community.
Three years ago Pinckney held Fayetteville's ̀rst Teen Explosion to meet several needs in the community. It doesn't take much Googling to ̀nd facts and ̀gures about the large amounts of money spent on education, the correlation between high school dropouts and juvenile arrest records or the challenges parents and teachers face when it comes to educating America's youth. Teen Explosion is built on the premise that education is a great equalizer, a way out of poverty and a tool no one should be without.
"Without a doubt, one of the things I enjoy most is planning the event and creating and developing an event that is creative and is going to have an impact on students and the day of the conference when we see students walking around trying to ̀gure out which session to go to," said Pinckney.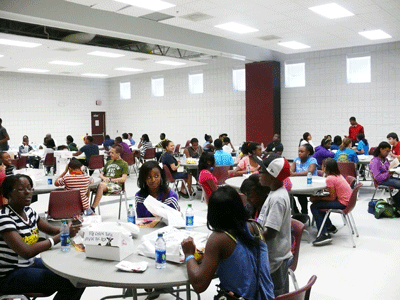 "Getting feedback and them being excited about what is going on around them and saying 'I am ready to go to school now.' This event has an impact with regards to students being ready to go back to school being ready and feeling empowered when they get there."
One of the wonderful things about Teen Explosion is that regardless of a student's circumstances, they benèt from the tools and activities at the event. Attendees will learn how to prepare for a successful school year, meet local business men and women and learn about career opportunities and the link between school and workforce development, complete a career assessment and learn different ways to prepare for life after high school. That's a tall order, but the format is both engaging and exciting.
By spending a day with the community's youth, Pinckney and other event sponsors are looking to bridge the gap between local businesses and youth so that the teens understand that being successful in school is key to being successful in life. The conference aims to empower the community's youth and empower them to be successful nut just in school, but in life, too. It is a great opportunity for students to meet local business owners and college admissions representative and take a proactive approach to planning their future. It's also a chance for the business leaders of the community to connect with the teens and their families and get feedback about how they can help support youth in the community.
An advocate of healthy communication, Pinckney is the founder of T. Pinckney & Associates, a consulting ̀rm that helps organizations and families. Although Pinckney and Teen Explosion sponsors put a lot of time, money and energy into the event, her dedication to helping students be successful is a year-round commitment.
Find out more about Teen Explosion and register to attend at www.mymindovermatter.com.