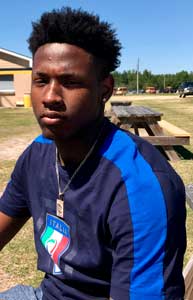 It took the best athletic year in school history to make it happen, but Cape Fear High School is finally the owner of the Maxwell and Wells Fargo Cups.
The Maxwell is for the best overall athletic program in Cumberland County while the Wells Fargo is for the best program in the Mid-South 4-A Conference.
Both are based on points presented for order of finish in official conference sports.

Cape Fear narrowly edged perennial cup winner Jack Britt 102-101 in the final tally. The Colts had a strong spring led by a co-championship in baseball and outright titles in softball and boys' tennis. The softball team has been nationally-ranked most of this season, getting as high as No. 3 in the country in the USA Today poll.
Highlights earlier in the year were an unbeaten regular season in football and the school's first conference title, and Cape Fear's first boys' Holiday Classic basketball championship.
Some of Cape Fear's top athletes will quickly tell you attitudes around the school and community have changed toward the school's sports program.
Softball star Haley Cashwell said knowing you have the tools and qualities to make athletics successful makes it more fun. She doesn't think
the tradition will die out when this year's seniors depart.

"More people know about it and how successful we are becoming,'' she said. "People want to carry on. They don't want it to die.''
A.J. Baldwin was a standout in basketball and football. He gives a lot of credit to Cape Fear principal Lee Spruill who frequently uses the phrase, "Colt pride never stops."
"Mr. Spruill is giving us school spirit,'' he said. "It puts a smile on everybody's face. Plus we've got support from the community and coaches telling us to work hard.''
Jackson Parker, a baseball and football player, said school pride is on the rise. "At all our games, you see the stands filled up,'' he said. "More people get involved, more people take it seriously. That's been a big part of the success.''
Football standout Justice Galloway-Velazquez agrees with Parker that community is a huge part of the school's success. "The community got behind us and stuck with us,'' he said.
"We had personal relationships with them. The teachers started believing in us.
"Everywhere I go now it's all about Cape Fear. You see guys that don't even go to our school wearing Cape Fear stuff. I tell them it's all about our fans in the community.''
Galloway-Velazquez returns for his senior year this fall and he's aware of what it will take to keep Cape Fear on top.
"We've got to stay strong in the classroom,'' he said. "If the coaches stay on us, we should have another fun time of it.''