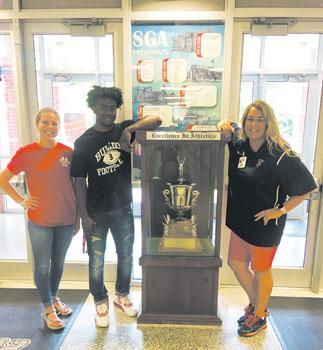 Terry Sanford finished a dominant year in the Patriot Athletic Conference by bringing home the Maxwell/Wells Fargo Trophy for overall athletic excellence.
The Bulldogs won or shared conference championships in seven sports. They won at least two conference titles in all three major seasons of the school year, and ended with a flourish in the spring as they took titles in boys tennis, baseball and girls soccer. All three of those spring teams made deep runs in the N.C. High School Athletic Association state playoffs, each making it at least to the third round or beyond.
Final point totals saw Terry Sanford outdistance second-place Cape Fear, last year's winner of the trophy, with 137 points to 129.5.
Pine Forest was third with 122, followed by South View with 110, Gray's Creek 107, Overhills 101, E.E. Smith 54, Westover 44 and Douglas Byrd 32.5.
When it was created in 1979, the Maxwell Cup was an all-sports trophy for Cumberland County schools. Since that time, as schools have been moved into different leagues, it's become a joint all-sports award with the NCHSAA's Wells Fargo Cup that goes to the best overall athletic program in each conference. Now that eight of the 10 Cumberland County senior high schools are in the Patriot Conference, the Maxwell is presented to the best school in that league along with the Wells Fargo Cup.
"We encourage multi-sport athletes," said Terry Sanford athletic director Liz McGowan. "There's a lot of truth that kids who play sports have to be more organized with their time. They end up being stronger students because they are using their time wisely.''
McGowan said the coaching staff at Terry Sanford works together to make the sharing of athletes between different sports successful. "A lot of our kids end up going Division 1 or Division 2 after they leave us," she said.
A couple of multi-sport athletes, Maggie Hodge and Dante Bowlding, share McGowan's view of the coaches at Terry Sanford.
Hodge participates in cross-country, swimming and track and field. "I'm with smaller teams, and you really get to build a tighter connection with your coaches," she said.
Bowlding was part of two conference championship teams for the Bulldogs, basketball and football.
A junior, Bowlding will have a chance next year to help keep the Maxwell Cup at Terry Sanford. He already knows what the key will be to doing that.
"Leadership,'' he said. "Leading by example. Doing everything I can to help my team.''
Photo: L to R: Maggie Hodge, Dante Bowlding and Terry Sanford athletic director Liz McGowan.