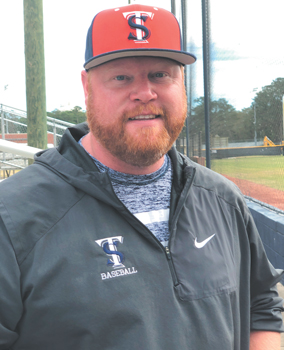 Editor's note: Due to a schedule change that took place after this week's edition was published, the schedule in this week's print edition for the Bulldog Invitational Baseball Tournament is incorrect. The correct schedule is posted at the end of this story.
The tangible reason Terry Sanford's Sam Guy likes to host an Easter break baseball tournament is to raise money for his program.
But there's also an intangible side, and that's to size up how the Bulldogs measure against good teams from other parts of the state.
With the field Guy has assembled for this year's Bulldog Invitational, set for April 20-23, Guy should have no trouble finding out how good his team is.
The field includes five teams that already have at least 10 wins this season as of April 10 and one club, Midway, that's unbeaten at 12-0.
Every team in the tournament is at least five games above the .500 mark, save for West Bladen, which at 6-8 is the only team in the field with a losing record.
Guy said the primary reason Terry Sanford holds the baseball tournament is to raise funds for the program. The money raised over the last few years of the event allowed Guy to construct an indoor batting facility just beyond the outfield fence of the Terry Sanford field.
"We make about $5,000 or $6,000 profit over those three days, which is awesome,'' Guy said. He added the revenue from the tournament not only pays for special projects like the batting complex, but for things the Bulldog baseball team needs on a regular basis.
As for bringing in a variety of teams, Guy said it expands the experience for his team beyond the limits of regular-season play in the Patriot Athletic Conference.
Guy said it's helpful that the conference is so geographically compact; member schools don't have to spend a lot on transportation and travel time to get to games.
But with a nine-team conference, that means Terry Sanford has to play 16 conference games, which cuts deeply into the opportunity to face nonconference opponents. The Bulldog Invitational gives Terry Sanford a better read on how it stacks up with schools of various sizes from across the state who also have successful baseball programs.
The big headache for Guy every year at tournament time is the weather.
This spring has been a nightmare for baseball coaches with the heavy amount of rain that has completely disrupted the weekly schedule.
"Going into the year, we had three weeks where we had two games,'' Guy said. "The rest were three or four-game weeks. Now, we're getting ready to play eight games in eight days.''
If inclement weather does come at tournament time, Guy has a tarp he can put on the field that will hopefully keep it from becoming unplayable.
He is holding Wednesday, April 23, in reserve as a possible makeup day if rain stops play on a regularly scheduled day.
If absolutely necessary, Guy said, he could squeeze the tournament into just two days. But that would require starting the first game at 9 a.m. and drastically cutting the time between games so six games could be played per day.
"If it rains multiple days, we'll just see,'' he said. Guy said one other change might have to be made in the schedule if either Northwood or Pinecrest have to play an early consolation bracket game on the final day of the tournament.
Both Northwood and Pinecrest will be in school Tuesday, April 23. Should either school fall into the consolation bracket and be scheduled for a game before 4 p.m., Guy said he would have to flip the game they are in to a 4 p.m. start so they would not be playing until their school was dismissed.
Here is the complete schedule for the tournament, barring any rainouts or postponements.
BULLDOG INVITATIONAL 2019
CORRECTED SCHEDULE
Saturday, April 20
10 a.m. - Midway (12-0) vs. Northwood (9-4)
1 p.m. - Terry Sanford (9-2) vs. West Bladen (6-8)
4 p.m. - South Caldwell (13-2) vs. Cape Fear (10-5)
7 p.m. - Pinecrest (13-2) vs. East Bladen (10-3)
Monday, April 22
10 a.m. Loser 1st game vs. Loser 3rd game
1 p.m. - Loser 2nd game vs. Loser 4th game
4 p.m. - Winner 2nd game vs. Winner 4th game
7 p.m. - Winner 1st game vs. Winner 3rd game
Tuesday, April 23
10 a.m. - Loser 5th game vs. Loser 6th game
1 p.m. - Winner 5th game vs. Winner 6th game
4 p.m. - Loser 7th game vs. Loser 8th game
7 p.m. - Winner 7th game vs. Winner 8th game
Photo: Sam Guy