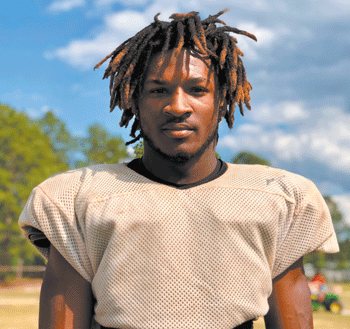 Editor's note: This is part of a series on Cumberland County high school spring football workouts.
Rodney Brewington was a player on the 1991 South View High School football team that won the North Carolina High School Athletic Association 4-A state championship. Last year, his Tigers got a taste of that kind of success as they finished in a tie for second place in the Patriot Athletic Conference, one game back of regular-season champion Pine Forest.
But Brewington has a big rebuild to do on offense, and it involves replacing his son, four-year Tiger quarterback Donovan Brewington.
"The biggest thing we are looking for now is guys who have to step up and lead,'' Brewington said.
They'll also need to replace his son's favorite target, Emery Simmons, one of the best deep threats in Cumberland County, who's now playing for the University of North Carolina at Chapel Hill.
One player who will be counted on heavily is running back Matthew Pemberton, the secondleading rusher in Cumberland County Schools last season with 1,667 yards and 23 touchdowns, the latter the most in the county. "Matthew Pemberton is going to carry a heavy load,'' Brewington said.
On the defensive side of the ball, Brewington thinks the Tigers have players who can fill the positions, they just need to step up and show what they can do to make big plays.
Offensively, Brewington thinks this will be the year of the running back in Cumberland County. Nearly every school will have a talented runner in the backfield who can take the ball the distance whenever it is handed to them, he said.
South View's best, Pemberton, is hoping to get a lot of college looks while doing all he can to help his teammates be winners.
"We have the players this year to do the same or better than we did last year,'' Pemberton said. "We just have to be disciplined and listen to coach.''
Pemberton said he expects to be called on to do more things to fill some of the void left by the departed seniors. "I have to do more to help the younger kids understand what they need to do in game situations,'' he said.
Photo: Matthew Pemberton