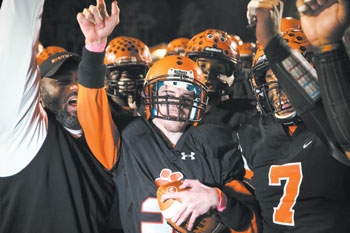 Here are the top ten Fayetteville and Cumberland County high school stories as selected by a panel of voters:

1. Tyler Bazzle scores for South View.

Tyler Bazzle, a student at South View High School, suffers from a form of cerebral palsy that causes him to be nonverbal and require a walker to get around.

He's beloved by both students and faculty, and he is a fan of the South View football team and its star player, Matthew Pemberton.

South View athletic director Chad Barbour went to head coach Rodney Brewington with the idea of letting Bazzle suit up for a game, then running a play, giving Bazzle the ball and letting him score a touchdown.
The event was held at South View's homecoming game with E.E. Smith, with the full support of the folks from Smith and the officiating crew.

Just prior to the kickoff, the ball was given to Bazzle, and best friends Kevin Brewington and Pemberton helped him into the endzone.


After the game, Pemberton gave Bazzle his game cleats.

"It's an experience I'll never forget,'' Barbour said.

2. Wilson excels at wrestling

Dallas Wilson is following in the footsteps of his dad, Cape Fear High School wrestling coach Heath Wilson. His dad is a former state champ and Dallas has already surpassed his efforts.
Dallas won his second consecutive state 3-A wrestling title last year. Also winning from Cape Fear was Jared Barbour.

This year, Dallas is seeking to become only the second wrestler in Cumberland County history with three state titles.

The other is Richard "Pnut" Tolston of Jack Britt High School, who won three straight for Jack Britt High School from 2013-15.

3. Cumberland County athletic signings

Cumberland County Schools had a banner year for its athletes signing letters binding them to compete in athletes for colleges.

According to Cumberland County Student Activities Director Vernon Aldridge, 126 county athletes committed to play for a variety of colleges.

4. Special Olympics honors Gray's Creek High School

Gray's Creek High School was one of only two high schools in the state recognized by Special Olympics North Carolina for helping to provide inclusive sports and activities for students with and without disabilities.
Gray's Creek became an early leader in the Unified Sports program, which partners able-bodied athletes with special needs athletes so the latter can compete in sports including wrestling, track and bowling.

5. Terry Sanford's Herz drafted by Chicago Cubs

After a brilliant high school career, Terry Sanford pitcher D.J. Herz was chosen by the Chicago Cubs in the 2019 Major League Draft.

Herz was selected in the eighth round by the Cubs. In his final season at Terry Sanford he was 8-1 with a Cumberland County Schools best 0.50 earned run average. He pitched 56.1 innings and led the county with 106 strikeouts.
Herz played for one of the Cubs' two Arizona rookie league teams last year.

The lefthander appeared in six games, finishing with an 0-1 record and no saves in 10.1 innings pitched. He had eight walks and eight strikeouts.

6. Terry Sanford football stadium demolished

After years of debate about its future, the oldest and biggest high school football stadium in Fayetteville was torn to the ground.

That forced this year's Terry Sanford football and soccer teams to play all of their games away at Reid Ross Classical High School's John Daskal Stadium.
The football team played one game at Fayetteville State's Nick Jeralds Stadium.

The new stadium won't be used until the first football game of the 2020 season, which is scheduled on Thursday, Aug. 20, against Lumberton.

7. Jason Norton leads Pine Forest while battling cancer

If there was ever a profile in courage, it has to be former Pine Forest athletic director Jason Norton. First diagnosed with cancer in 2016, Norton continued to make a regular commute from his native Hamlet to work as athletic director at Pine Forest.

He continued to fight to regain his health and remain at Pine Forest until the strain finally forced him to step down as Trojan athletic director, taking temporary leave in September.

8. Cape Fear ends South View cross country streak

The Cape Fear boys' cross country team ended one of the longest winning streaks in Cumberland County history this season when they halted South View's run of 21 straight conference cross country championships.
Jonathan Piland sparked the Colts by placing second in the championship race with a time of 17:04.20.

Julius Ferguson was third overall for the Colts while Juan Alvarado took fifth, giving Cape Fear three runners in the top five.

Placing in the top 20 for Cape Fear were Collin Gaddy 10th, Alden Bostic 13th and Colton Danks 20th.

The Colts went on to place fourth in the regional meet and qualified for the North Carolina High School Athletic Association state championship meet.

9. Fayetteville Academy wins state basketball title

Bill Boyette is no stranger to championship basketball. After a long record of earning titles in public schools, Boyette added a private school championship to his resume.

Boyette's Fayetteville Academy boys won the North Carolina Independent Schools Athletic Association 2-A championship, defeating Wayne Country Day 64-45 in the title game.

Fayetteville Academy finished 27-3.

According to rankings posted at MaxPreps.com, the Eagles were No. 6 in the state among all schools, public and private, and No. 1 in their classification in the NCISAA.

10. TIE

Multi-sport standout and football broadcaster Don Koonce dies.

Don Koonce was one of the greatest multi-sport athletes in Cumberland County history.

After a successful stint in the minor leagues, he returned to his native county and became involved with the Mid-South Sports broadcasting team as a color commentator.

Eventually, he branched out on his own, founding DK Sports, Inc., which led to the creation of multiple broadcast teams covering everything from football to basketball to softball.
Koonce passed away shortly before the 2019 football season started.

His loss left a void in local high school sports coverage that will be almost impossible to fill.

Terry Sanford's Dorian Clark sets school rushing record

There have been some great running backs at Terry Sanford, names like Nub Smith, Roger Gann, Dwight Richardson and Louis Craft just to list a few.
But among all of them, Dorian Clark now stands as the all-time leading rusher.

The senior running back finished his stellar career with the Bulldogs with 5,945 career yards and 67 touchdowns.

For the season he had 2,346 yards and 33 scores. The former was tops among Cumberland County running backs.
Picture 1: Tyler Bazzle celebrates his touchdown.
Picture 2: L-R, Dallas Wilson and Jared Barbour of Cape Fear pose with their championship brackets on the floor of the Greensboro Coliseum after winning NCHSAA state 3-A wrestling titles.