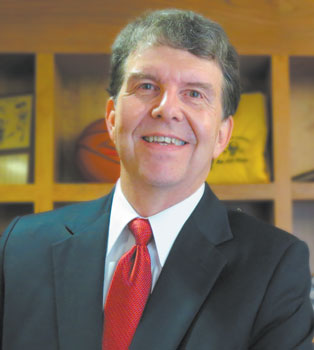 Few people are better qualified to talk about the current state of high school athletics in North Carolina than Rick Strunk. Strunk joined the staff at the North Carolina High School Athletic Association in 1985 and spent 30 years there before stepping down in 2015.

During his early years with the NCHSAA, Strunk had a conversation with longtime NCHSAA leader Charlie Adams about what events could disrupt high school sports on a statewide scale.

Adams told Strunk one thing would be a major war that could put restrictions on travel.

The second thing Adams said was an epidemic.

Strunk said during his time with the NCHSAA, they did have to deal with a situation like that, but it was nothing on the scale of the current COVID-19 pandemic.

"There was a measles outbreak,'' Strunk said, adding that it was confined to one area of the state. "School systems went under quarantine for a limited period of time to try and track down the source of the measles.''

Schools in that area developed a workaround, redoing their athletic schedules and playing games against schools that weren't under quarantine, then once the quarantine was lifted, making up all the postponed games against the schools that were in lockdown.

He thinks the NCHSAA has done the best job possible trying to make decisions within the framework of the restrictions that have been set down in North Carolina to curb the spread of the pandemic, and he thinks coaches, athletes, parents and fans need to understand that the NCHSAA lacks the freedom to make plans for the future at will.

"When the governor says something is going to happen on this date, you can't make your own decision to run counter to that,'' he said. "Health and safety of the participants is paramount. That is what North Carolina has focused on.''

Strunk said he has stayed in contact with members of the NCHSAA staff during the pandemic, and hopes the public appreciates this has been a painful process for them. "They know the value of high school sports and that kids want to play,'' he said. "I really feel bad for seniors who didn't have a season in the spring because it was stopped so early.''

At the same time, he had nothing but praise for how school systems and coaches are still reaching out to support both students and athletes.
"Schools have had to pivot quickly,'' he said. "Without much run-up they had to put classes online.''

He said coaches have had to design strength conditioning programs for homebound athletes who don't have access to gyms or weights.

In the face of everything, Strunk is trying to be optimistic and hopeful that by this fall, some degree of normalcy will return and coaches and athletes will be back on the field.
"First is the decision about school,'' he said. "That will drive a lot of things.''

He's also concerned about if fans will feel safe going to games and if small businesses will be able to provide financial support to local teams after being closed.

Instead of a light switch, Strunk thinks the return to sports will be more like a dimmer switch. "The safety of the public, the athletes, the coaches, the fans, all of those are the prime directive in this case,'' he said.