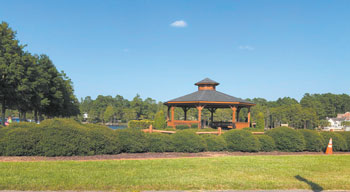 Church at the Lake returns to Hope Mills this year with a new date but the same commitment to share the unity of the town's many faith groups.
"I think it's important for us as a community to take advantage of the opportunity to come together with a display of unity, an opportunity to display our faith as a unified community,'' said Pastor Michael McGill of Grace Place Christian Church on South Main Street.
McGill is one of the pastors involved with planning and coordinating this year's Church at the Lake event, which moved from July to Sunday, Oct. 6, from 4:30-8 p.m.
The service will be held at Hope Mills Lake with the various performers setting up at the gazebo near the large grassy area by the lake.
McGill said although the area has been hit by multiple hurricanes in recent years, Hope Mills has been relatively fortunate that the damage done by the storms wasn't more extensive.
"There is always the potential for destruction when there is a lot of water around,'' McGill said. "Church at the Lake is an opportunity for us to come there and give thanks for the goodness of the Hope Mills community.''
McGill said 10 different churches of all denominations from the Hope Mills community will take part in the observance this year. "We've met several times this year to discuss the program and to organize the event,'' he said.
A number of the churches will have a music ministry from their particular faith group performing at Church at the Lake. In addition, the minister from each of the performing churches has been invited to speak briefly before that church's group performs, talking for not more than three to five minutes.
McGill said each pastor's message will focus on words of encouragement and unity for Hope Mills.
McGill said the music will offer a variety of styles from bluegrass gospel to contemporary worship and more traditional hymns.
The service will conclude with a unity number performed by multiple groups.
Those planning to attend are welcome to bring chairs or blankets to sit on as no formal seating will be provided.
Parking will be available at the lot at Big T's by the lake and at the various businesses across the street from the lake.
"We are looking forward to coming together as a community,'' McGill said.