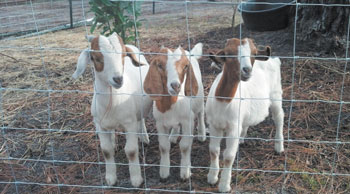 The popular Gallberry Corn Maze is back for a sixth season of weekend fun for families, with a special added attraction this year.

"We are doing pig racing,'' said Jeanette McLean, spokesperson for the corn maze.

They try to get in at least two pig races during Friday's hours for the corn maze and as many as three or four during their longer hours on Saturday.

This year's hours are 5-10 p.m. on Friday, noon to 10 p.m. on Saturday and 1 p.m. to 6 p.m. on Sunday. The last tickets are sold each day one hour before closing.

The pigs have their own track at the corn maze, the Gallberry Nas-Hawg Speedway.

The four competing critters are named Earnhawg Jr., Danica Porkchop, Stinkerbelle (a Southern pig, of course) and Spongehawg Spampants.

The pigs are Gloucestershire old spots and were originally bred as orchard pigs. "They are actually leaner, longer pigs and aren't messy,'' McLean said. "They don't root as much as a farm pig does.''

Each pig is assigned a number and a color prior to the race and children that come to the corn maze are encouraged to cheer for the
pig of their choice to win.

In addition to the racing pigs, Galberry continues with many of its traditional attractions that have made the corn maze a fall hit.

There is the jumping pillow along with a wide assortment of farm animals. They include Hee Haw the Donkey, baby goats and baby peacocks, Tom Tom the Turkey and rabbits.

Other attractions include a giant corn shack with 6,000 pounds of corn, various slides, a climbing wall, cornhole games, tic tac toe played with Styrofoam pumpkins, a barrel train and a hayride.

Of course, the main attractions are the two mazes, a one-acre children's maze and the five-acre main maze. McLean estimates it takes about 45 minutes to walk through both mazes.

Flashlights are required in the maze after dark. They are available for sale at the concession stand but McLean said most customers use the light on their cellphones.

Tickets are $11 for everyone ages 3-65. Children under three are free. Cumberland County school teachers, seniors 66 and over and military can get a $1 discount with proper identification.

The hay ride stops at dusk for safety reasons.

All sales are cash only and there is an ATM at the main ticket gate.

The only thing a ticket doesn't include is the popular air cannons which are three shots for $1.

Pumpkins and all food from the concession stand cost extra.

Concession items include water, soft drinks, juice boxes, funnel cakes, fried Oreos, honey buns, corn dogs, hot dogs, nachos with chili and cheese and fried corn on the cob. There are also S'Mores kits available. Fire pits are also provided.

The Gallberry Corn Maze, located on 5991 Braxton Rd., is open through Nov. 3. For more information, visit the Facebook page, Gallberry Corn Maze, the website, gallberrycornmaze.com, or call McLean at 910-309-7582.