Due to the threat of severe weather Saturday from Tropical Storm Nestor, the Fall Family Festival at Harmony at Hope Mills has been postponed to a later date.
Harmony at Hope Mills, an assisted living facility, is still somewhat new to the Hope Mills community. It's located at 7051 Rockfish Road, a short distance from Jack Britt High School.

To help introduce itself and to give back to the town it hopes to serve, Harmony is holding a Fall Family Festival on Saturday, Oct. 19, from 10 a.m. until 2 p.m.

"We want to say thank you and bring the community together as well, as with our families that are currently residents,'' said Taneshia Morris, the move-in coordinator at Harmony.

Harmony is partnering with the group that sponsors the annual Cut My City event to offer a variety of activities and services to anyone who would like to take part, especially members of the senior citizens community.

One of the big features of the festival will be free haircuts and some makeovers.

Hair dressers and professional makeup artists will be on-hand to help with the makeovers.

Morris said Harmony has reached out to local churches to ask them to nominate deserving members as candidates for the makeovers.

Around 2 p.m., Harmony will hold a seniors fashion show for anyone ages 60 and up. Morris said the fashion show will be complete with a catwalk for the participants.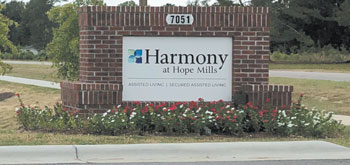 There will also be senior games, carnival style, with prizes for the participants.

Other events will include a photo booth, an antique car show, a cornhole competition and a variety of food trucks.

Anyone who would like to find out additional information about the event or RSVP for the makeovers or the fashion show is asked to call by Wednesday, Oct. 16, at the latest.

The number is 910-635-0555.

"We just want people to know we are here,'' Morris said.