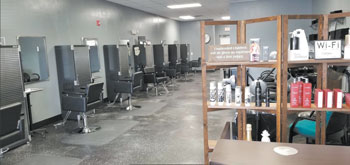 Business partners Mary Susan Megill and Tara Freeman don't look at what they do as owners of Moxie Hair Studio on Legion Road as a job.

"A lot of people look at it as a hobby, which kind of in a way it is, but it's a hobby that is also a job that we like,'' Freeman said. "It doesn't feel like work. I genuinely like my clients and like to make them feel good about themselves.''

The two recently opened their new studio in the Coffman Commons shopping center at 4251 Legion Road.

"I had previously worked in Hope Mills and had built a clientele out there,'' Megill said. "It's close enough to most things in Fayetteville and it wasn't too far for most of our clients.''

Freeman lives in the Gray's Creek area and saw it as a chance to add another hairstyling option for people in what is a rapidly-growing part of Cumberland County. "It's an opportunity to market this area more,'' she said.

They describe the business as a full-service hair salon available to the entire family. Women, men and children are all welcome.

For the time being, Megill and Freeman are the only stylists in the shop, but they have openings to add more stylists in the future.

There are no firm hours with most business being appointment-based. Walk-ins are welcome but depending on the appointment load, it's better to schedule something in advance.

Generally, the studio is open during traditional business hours Tuesday through Saturdays.

Freeman got her cosmetology training at a vocational high school in Ohio. Megill learned the trade at a local hairstyling school.

Both took the traditional 1,500 hours of training, which for both is ongoing on the job. Between them they've got 33 years of experience on the job.

"It's always changing,'' Megill said. "There's always something new, the client thing, as well. You become close to your clients. You build a relationship with them.

"We both have clients we've been seeing for years. (You) watch them grow with their families and their jobs and whatever else is going on in their life.''

Megill said that technique-wise there is always something cool coming out in the hairstyling business. "It's not boring,'' she said. "It really, truly is a fun job.''

While the main services they offer are hair cutting and coloring, they offer specialty work like rainbow hair coloring and balayage.

Balayage is when dye is actually painted on to create a graduated, natural-looking effect.

The procedure can take as long as two hours to perform. The two also do fashion colors and corrective colors.

For further information on the business, visit their Facebook page, Moxie Hair Studio. You can contact them at 910-491-4542 or by email at moxiehairstudio19@gmail.com.