Susan Moody strongly supports anything that can improve the quality of life in her adopted town of Hope Mills. Since she moved there in 1986 she's embraced any positive changes to the community, including last Monday's ribbon-cutting that officially opened the new Golfview Greenway Walking Trail to the public.

But with some projects, and the Greenway probably tops Moody's list, she wonders if the town's Board of Commissioners hasn't gotten ahead of itself in making the venue open without doing everything it could to make it fully ready.
Moody is a regular at Board of Commissioners meetings. When she's not able to attend in person, she scours the minutes that are provided after the fact to see what business has been transacted.

She started having reservations about the haste involved with the Greenway when town director of public works Don Sisko discussed at length changes that would be needed to made to the greenway.

"He started sharing what it was going to take to bring it up to ADA (Americans with Disabilities Act) compliance,'' Moody said. "He was talking about the grades of different paths. He was talking about the width of the path, what they were going to have to do.''

Moody said Sisko also discussed areas of the trail that were washed out and other issues.

"My concern has been all along that it's not ADA compliant,'' Moody said. "The town has already been sued once.''

Moody is correct. In 2013, the town settled a lawsuit with Tim Wallen over handicapped access to the Parks and Recreation Building and facilities at Municipal Park and Brower park.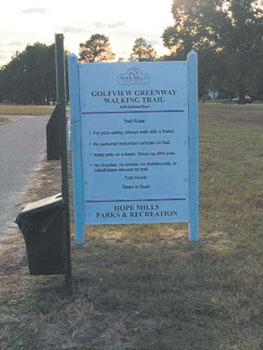 The town agreed to pay for a variety of changes and was also assessed $6,000 in attorney's fees for the lawsuit.

But at its Aug. 20 meeting in 2018 when the Board of Commissioners scheduled tours of the golf course, Heritage Park and Hope Mills Lake bed No. 2, Mayor Pro Tem Mike Mitchell expressed no concern for taking its time in opening the new greenway at the golf course to the public.

"All this property belongs to our citizens,'' Mitchell was quoted as saying in The Fayetteville Observer. "They should be able to make use of it. As for liability, everywhere we look we have liability. It's what insurance is for.''

Most people don't purchase insurance with a goal of having to test its limits. They do it to be cautious. Pushing the envelope on what insurance covers would be risky in a case of someone who suffered a serious injury on the walking trail that would affect them and their families for the rest of their lives.

Opening the park so soon could be compared to opening a big box store to consumers when construction is still in progress, hard hats are needed in some departments and others aren't fully stocked.

"We have a large senior population,'' Moody said. "We have people that are wheelchair-bound. We have people that are in walkers. We have people that just can't walk that far.''

Moody is concerned nothing has been done to address most of the issues that Sisko first raised with the board months ago.

"It's another rabbit hole that this board goes down,'' she said. "They see something, the rabbit goes down the hole and they chase it.

"Where are the plans? There have been no plans presented to the board.''

There was one plan presented that the board took no action on. At an earlier meeting a suggestion was made to construct an ADA compliant walking track at the new greenway. The board considered it, but took no action.

"This wasn't in the (recreation) master plan that cost how many thousands of dollars?,'' Moody said. "They are going at this piecemeal. Where is the strategic plan to do any of this? That's my concern.''

In a recent town manager's report from Melissa Adams, a consultant for the town listed some minimum notices the town should post at the greenway.

The list included signage describing the length, surface and slope of the trail. The signs are currently on order but as of the ribbon cutting on Monday had not been put into place at the greenway.

Some who attended the ribbon cutting said a few modifications not related to handicapped access had been made and pine straw had been removed from the trail.

Moody said she definitely wants the greenway open for all the people of Hope Mills but not in a hit-and-miss manner where it's going to be put a band-aid on this or a temporary thing on that.

That belief by Moody seemed to be confirmed by a Facebook post from town commissioner Meg Huse Larson. Responding to a post from someone saying that the greenway was in need of water stations along the trail, Larson said the town was putting in two watering stations and more "as finances permit.''

The town is also leasing the greenway's only existing parking lot at a cost of $4,800 for one year.

"What's going to happen a year from now when this lease is out and these people have gone through and decided they are going to develop it or do something else with it,'' Moody said.

The total bill for the greenway so far is $11,769, with much of the signage that has been ordered still not in place when the ribbon cutting took place last week.

"It should have been in place before they took down the no trespassing signs,'' Moody said.

The good news, if you can call it that, is the insurance is in place, ready for one bad incident on unfinished walking trail to test its limits.

Picture 1: Jackie Warner went to the ribbon-cutting ceremony for the Hope Mills Greenway.

Picture 2: Moody said she definitely wants the greenway open for all the people of Hope Mills, but not in a hit and miss manner.