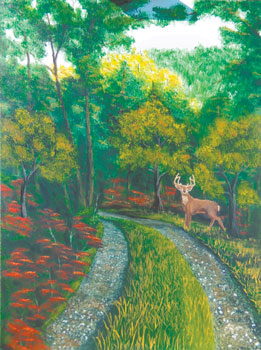 Due to unforeseen problems, the silent auction portion of the Hope Mills Creative Arts Council's fundraiser Tuesday has been moved to Marci's Cakes and Bakes at 5474 Trade Street. The remainder of the event will still be held at The Studio on Trade Street at 5458 Trade Street.

What started as a traditional Christmas party at The Studio on Trade Street in Hope Mills has evolved into a fundraiser for the new Hope Mills Creative Arts Council.

Cherri Stoute has agreed to open the doors of her Trade Street business in Hope Mills to the community as a way of promoting the work of the new arts council and helping to jumpstart its effort to raise money to fund its various projects.
The event is scheduled for Tuesday, Dec. 17, from 6 p.m. until 9 p.m. at Stoute's photography studio at 5458 Trade St.

"I wanted to do this event to help them raise money so they can continue on their own to have events,'' Stoute said.

Normally, Stoute rents out her photography studio space to local photographers. For the party, the studio will be cleared out to create an open space and allow the party-goers plenty of room to mingle and celebrate and to allow visiting artists to share their works.

Stoute's studio offers memberships to local photographers and is available for rent by photographers for photo sessions and other events. Stoute herself is both a photographer and a filmmaker.
Regular hours for her studio are 10 a.m. until 4 p.m. Monday through Friday.

A big part of the fundraiser will be a silent auction where guests can submit bids on art donated for the event.

Local artist Justin Spears has already donated a painting to be auctioned off, and other artists are invited to submit items for the guests to bid on. An alternative way to support the cause is the photo booth, which will be accepting donations.

Pictures of some of the items available for auction will be posted in days to come on the Hope Mills Creative Arts Council's Facebook page, as well as its website, hopemillsarts.com. There will also be carolers and Christmas music.

Stoute said guests don't have to stay for the full three hours, and they also don't have to be present to learn if they've submitted a winning bid for any of the items to be auctioned.

In addition to Stoute's photography studio, other businesses on Trade Street will be open during the time of the fundraiser for people to visit. "The idea is to come in and see what is going on, then go to the other shops,'' Stoute said. "It's an important event for the community.''

Snacks and munchies will be available for visitors to the studio that evening. Marci's Cakes and Bakes nearby will also be open with a variety of treats for sale.

Elizabeth Blevins, one of the originators of the Hope Mills Creative Arts Council, said all money raised from the silent auction will be used to bring more art into the community and to help local businesses offset the cost of putting art and sculptures into their businesses.

A likely initial use of the money would be to help local artists pay for supplies to create works of art for public display around the town.

One of the initial goals is to create a mural in a public space somewhere in town.

Spears has been approached about being compensated for his materials should he decide to produce a mural somewhere in the town once a location has been determined. "He is a veteran and he's just started doing charcoal drawings,'' Blevins said. "He also does oil paintings.''

Artists who work in all mediums are welcome to donate works to the fundraiser to include in the silent auction Blevins said.

Artists are also welcome to come and set up a display of their work at no charge at the party on Dec. 17. "They are welcome to sell or show,'' Blevins said.

Blevins said interested artists should contact her as soon as possible at 910-853-4539 or email hopemillscac@gmail.com.

"This is an opportunity for the arts council to meet the businesses on Trade Street,'' Blevins said.

"We just want everyone to come out and have a lovely night on Trade Street in Hope Mills,'' Stoute said.