The fate of this year's Hope Mills Fourth of July celebration is far from being decided, but town officials are moving ahead with plans to hold some kind of observance of the holiday, even if it may be muted.
The town's Board of Commissioners voted earlier this month to move ahead with plans for the annual event. Now, Parks and Recreation Director Lamarco Morrison and his staff are looking at what they can do to make the observance, or some positive alternative version of it, happen.
North Carolina governor, Roy Cooper, recently announced Phase 1 of the plan to reopen the state to more normal activity in the wake of the COVID-19 pandemic.
Morrison is hopeful things will get better and not worse as July 4th approaches, but town staff is considering a variety of options to deal with whatever the situation might be at that time.
The big news, for now, is that there will be a fireworks display, but people might have to view it in a different way.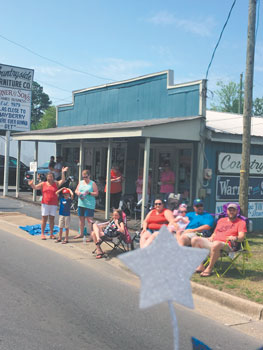 "We want to do drive-in fireworks,'' Morrison explained. "We'll let people drive in and park at the (old) Hope Mills golf course. People can enjoy the fireworks from
their car.''
As for the annual Fourth of July parade, it may have to be altered drastically if severe social distancing restrictions are still in place when the holiday rolls around.
Meghan Hawkins, assistant director for special events and programs, has been looking at alternatives to the parade if needed. Morrison said Hawkins has explored the possibility of doing a backward parade for the town.
Under Hawkins' plan, the town would purchase Fourth of July decoration kits for people and allow them to register to decorate their homes. The town would provide a map of the decorated homes and allow people to visit the different locations in their cars.
Morrison is remaining hopeful that, by July, the restrictions will be lifted enough that an idea that extreme won't be needed.
The problem is, to plan for a meaningful Fourth of July celebration, the town can't wait until the last minute, especially if they are going to try to put on a parade, if the circumstances will allow it.
With the governor announcing that Phase 1 of reopening of the state is underway, that loosens the restraints a little on what can be done, but Morrison thinks the town will need to make some concrete decisions about what can and can't be done with the parade by the middle of May.
One thing that likely won't be seen in the parade, no matter how much better things are in terms of the pandemic, would be marching bands, which would clearly put large groups of people in close proximity with each other.
Units in the parade could be limited to things like vehicles and animals only.
As for spectators, Morrison said the town would likely need the assistance of the Hope Mills Police Department to make sure spectators along the parade route observed appropriate social distancing while the parade was in progress.
That could pose a problem, one that has already reared its head at the Hope Mills Lake Park.
"We've been met with resistance at the lake, with people's emotions being heightened,'' Morrison said. "They haven't been the nicest about being told they can't gather.''
Morrison said crowd control is not normally a major responsibility for the lake attendants who work with Parks and Recreation.
In addition to the lake park, Morrison said there have been problems with the area around the proposed Heritage Park, where construction hasn't even started.
"We had to rope off the future Heritage Park site,'' he said. "People were parking and gathering down there, essentially breaking the rules by hanging out.''
He said things have gotten a little better recently with fewer calls to break up inappropriate gatherings of people.
As for planning ahead for the Fourth of July, Morrison is hopeful with the addition of online registration for Parks and Recreation activities, he and his staff will be able to wait until the latest date possible to make definite plans for the Fourth of July celebration.
Morrison said he also remains hopeful that the town will be able to salvage the summer youth sports season. "I'm thinking July is far enough out,'' he said. "A lot of people don't want to refund their money. I'm thinking we'll be able to play in some form or fashion.''
He's just hopeful that whatever steps are taken to reopen the state to business will be taken with caution.
"If they open too quickly, I'm afraid we'll have another surge,'' Morrison said.
In the meantime, if anyone has questions or concerns about Parks and Recreation department activities, they can keep up to date by going to the webpage, townofhopemills.com, and clicking on the Parks and Rec link. They can also visit the Parks and Recreation Facebook page, Hope Mills Parks and Recreation.
For other questions, call 910-426-4109. The front desk at the recreation center on Rockfish Road is staffed most days from 8 a.m. until 3 p.m.