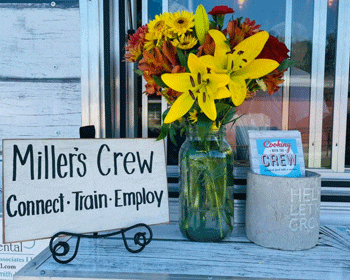 Miller's Crew has become a staple at many events around Cumberland County. The food truck serves hot dogs, fries, grilled cheese and tried and true food favorites, offering simple but delicious lunches.
Behind the counter and cash register is a leader who has been working for the past five years to make sure young adults learn the skills they need to be successful.
For 26 years, Kim Molnar worked at Cumberland County Schools as a speech-language pathologist and specialist. She noticed that children with developmental disabilities, particularly high school students, weren't given much-needed resources to qualify for jobs in the community. She saw this within the schools and with her son, who has autism spectrum disorder.
"After high school, it was unclear what was out there for him," Molnar said about her son, Miller. "We started Miller's Crew based on frustration and lack of resources in our community for adults."
Miller's Crew, named after Miller Molnar, was established in 2016. The Miller's Crew goal is to provide job training, apprenticeship programs and employment opportunities for young adults with developmental disabilities.
Their first goal was to create vocational work labs in high school special needs classrooms. Miller's Crew met their initial goal in just three and a half years.
Now Miller's Crew is in Phase Two - the food truck.
"With the food truck, we are able to take adults with special needs and train them with skills that they can use in some kind of employment," Molnar said. "We use our food truck as a training lab. We serve really good food, and we love being out in the community."
The food truck launched in June, and since then, Molnar says they have been booked several times a week and are regulars at popular food truck sites. They will be serving their fare at the second annual MLK Dream Jam Basketball Tournament on Jan. 15 and 17 (read more about this event on page 13).
When they launched, two crew members with developmental disabilities worked with them. One has since moved to Kentucky and is now working in a cafe. A local Jersey Mike's hired the other. These success stories increased the number of people interested in training at Miller's Crew.
"We have six crew members right now that are waiting to get on our truck and train," Molnar said proudly.
The food truck serves another purpose: to get out in the community and show local businesses what these young adults could do for them as employees.
"We have a strong belief that connecting with the community is vital to our program," Molnar said. "Eighty-seven percent of adults with special needs are unemployed."
But Miller's Crew wouldn't be what it is without Molnar. Molnar was one of four recipients of last year's Community Impact Award and is the driving force behind Miller's Crew.
"I'm the one on the grill; I'm the one doing the training. I'm back there burning my fingertips because the grill's hot, so I don't get a lot of time to think," Molnar said. "But when I wake up in the morning, all I can think to myself is you have to follow your heart when you feel something as strongly as I do about your purpose. I did the right thing, based on what my heart was telling me."
What's the plan for Miller's Crew for the future? The first goal is to get to Phase Three, which means opening their own Crew Cafe and Training Center. This building would be a fully functioning training center that would expand opportunities to help individuals train with different skillsets. Miller's Crew would then partner with local businesses and organizations that would hire these young adults after they finish training.
The center would also serve as a hub for families to connect and get help and advice when their children are diagnosed with developmental disabilities and special needs.
"It is a life-long process. Once you have a child with special needs, there is nothing in that process that is stagnant," Molnar says. "We want them to see the big picture right when they walk in our doors."
To find out more about Miller's Crew, where you can find their food truck, or how to get involved, visit their website at millerscrew.com.