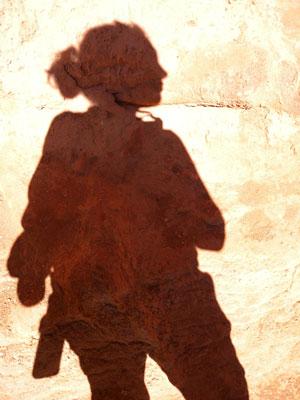 Fayetteville artist Erica Stankwytch Bailey fi nds inspiration in the smallest of details within a larger body — a cell within a plant, a shell in the ocean. Bailey, a metalsmith, found herself within that very context when she journeyed to the Grand Canyon as an artist-in-residence earlier this year. For three weeks in January and February, she lived, worked, hiked and photographed in the Grand Canyon. Bailey will share her experiences on Thursday, May 6 from 7 to 8:30 p.m. in a presentation at the Arts Council, 301 Hay Street, in Fayetteville. The presentation is free and open to the public.
"It's a really great program," said Bailey, a metalsmith, in a phone interview. "Several of the national parks throughout the country do artist-inresidence programs. The cool part is that both the artists and the National Parks have worked hand-inhand for a long time. In the early times of the National Park Service, there was no way to show people what the parks looked like without artists, and that's how all the national parks shared the parks with the people so that people would support them."
Bailey took her fi rst metalsmithing class at Fayetteville Technical Community College when she was 17.
"The funny part is I now teach at FTCC. I really love teaching. For me as an artist, I work so much in the studio that it's really nice to get out and interact with people."
Bailey draws her inspiration from nature, and many of her jewelry pieces, wrought in materials such as sterling silver, copper, brass, freshwater pearls, jade and recycled paper, evoke images of a piece of coral, an unfolding bloom or the magnifi ed surface of a grain of pollen or tiny ocean plankton.
"My studio is covered with trays of things," Bailey said. "I'll pull them out and look at them or photograph them. I keep a pretty involved sketchbook. It's always nature, sometimes architecture, and I've been looking at a lot of nano and microscopic photography. The last year or so, my work has really started to be about how signifi cant the really small things are within a larger context. That is part of how I chose the Grand Canyon. It is the perfect place to experience the signifi cance of the small in the large. I chose the Grand Canyon because I knew it was a place that would be truly inspiring.
"When I fi rst got to the Grand Canyon, it was so big that it was hard for me to take it in. There was visually so much to see. I really started breaking it down into its different parts –– line, shape, texture, form. I'm working on pieces inspired by the trip. It's a series of pieces based on elements of art. Most of them will be wearable, but I do have a piece that I'm working on that is more sculptural. At the presentation, I'll talk about the entire experience and plan to have some of the completed works there.
Bailey's presentation is part of an outreach program of the national parks' artist-in-residence program.
"It was an amazing opportunity," said Bailey. "I had the best view in the park. They ask very little but that you do outreach to spread the word on how amazing the National Parks are. I also have some great photographs to share and stories about how amazing and wonderful the experience was and how challenging it was. It was such a profound experience."