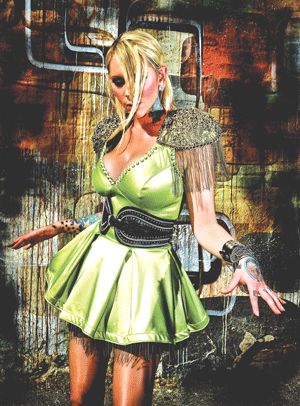 On Wednesday Feb. 2, rock artists, Korn and Distrurbed rolled through the Crown Coliseum on the fifth annual Music as a Weapon Tour. The tour will also feature metal heavy-weights Sevendust, and a relative new comer to the hard rock scene, In This Moment.
ITM features the only female rocker on this top-tier tour, Maria Brink. Maria's platinum blonde hair and piercing blue eyes that match her soul piercing voice quickly gives way to a canvas of tattoos that helps her blend in with rest of her So-Cal metal mélange.
The five member band that formed together five years ago in Los Angeles have had success touring with the god-father of metal Ozzy Osbourne, and they continue to reach new audiences with their latest release, A Star-Crossed Wasteland. Wasteland is the group's third offering produced by Kevin Churko (Ozzy Osbourne, Five Finger Death Punch), and brings together the group's eclectic tastes and influences to produce a uniquely dark and melodious sound that is beginning to solidly define the group. The singles "Just Drive," "The Promise" and "Gun Show" have helped the album reach #40 on the Billboard Top 200.
Chris Howorth, founding member and guitarist, says the dynamic of the group has led to the evolution of their sound.
"My influences are more traditional metal, like Pantera and Metallica, but Maria brings unique tastes like Mazzy Star and Massive Attack," said Howard. "As we all push to have our influence felt, it blends into the unique sound that we have now."
While Music as a Weapon is not the bands first big tour, as they've done arena tours with Ozzy, toured with Korn on the Mayhem Fest, and rocked last summer's Warped Tour, the band is enjoying gaining new audience and new fans with the Weapon Tour.
"We love the music and realize that can be a very powerful tool," said Howard. "We all just want to make an impact, so we're going out there every night trying to have the best show we can. Even now we still get new fans come up to us after the show who haven't heard of us, but they fall in love with the music."
As the band bring its arsenal of metal to Fayetteville, Howard says they look forward to playing in another military town.
"We've played Hooligan's in South Carolina (outside of Fort Jackson), and we're always super-excited whenever we see it on the tour," continues Howard. "The military crowd always brings this great energy to the show and we just have an awesome time."
Photo: Music as a weapon comes to the Crown Coliseum on Feb. 2.