It goes without saying, a large part of the arts community, art venues and art patrons miss the Fayetteville Museum of Art. Yet, as the museum board reorganizes, local galleries are still doing their part to support the arts in Fayetteville.
Two galleries in particular, Cape Fear Studios and Fayetteville Technical Community College Gallery, are raising the standards for their exhibition space. In the effort, both galleries are hosting exhibitions that are well worth visiting during the month of March.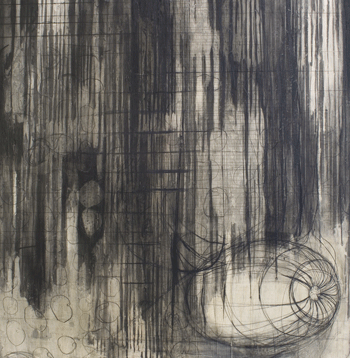 The Cape Fear Studios opened February 24, 2011 with Robert Levin: Glass Artist. From Burnsville, North Carolina, Levin, an internationally known glass artist, was invited to exhibit his blown glass works in a one person exhibition. As an art form, Levin brings a level of glass blowing to Fayetteville that has only been viewed in the past at the Fayetteville Museum of Art.
The craftsmanship and artistry of Levin is masterful. Visitors to the Cape Fear Studios will immediately see how hand crafted glass objects from a master are dramatically different from the machine made object. In Levin's glass, an essence of hand and spirit exude from forms having extraordinary fluidity, beauty, grace and luster.
Levin's artist statement best describes the glass experience visitors can have if they think about his results from the process of working with hot liquid glass. He stated, "I have always tried to capture an element of the elegance, fluidity and whimsy which I feel are inherent properties of glass. The glass itself can be a symbol of human characteristics: fragile, but durable; fl uid, but hard-edged. This all has something to do with the possibilities for change and transformation, both with the material and with the person doing the creating."
Levin's resume is lengthy and high powered. Formerly the resident glass artist at Penland School of Crafts, he has lectured and taught throughout the United States, in Ireland, and in New Zealand.
He has exhibited widely in the US, Europe, Japan, and the former Soviet Union. His work is in many public and private collections that include, but are not limited to, the Corning Museum of Glass, the Museum of American Glass, the High Museum in Atlanta, the Contemporary Glass Museum in Madrid, the Ebeltoft Glasmuseum in Denmark, the Great Synagogue of Jerusalem and the Museum of Arts and Design in New York.
In addition, he has received many grants and fellowships, to include the Southern Arts Federation/NEA Visual Arts Fellowship, two North Carolina Arts Council Fellowships and a NC Arts Council Project Grant. His work has been featured in more than 36 publications and includes American Craft, New Zealand Crafts, Craft Arts International, New Glass Review and many other noted magazines and text books.
Levin includes mixed media, often wood, with his glass objects. So it's easy to see why his most recent commission involves creating a mixed media sculpture near or on the Town Square in Burnsville, NC. As stated on Levin's website, "the sculpture will be part of the Toe Valley Trail Project, a program that brings public art by local artists to one of the most attractive "built" environments in our state. The sculpture will be made of local locust wood and native stone and will stand 7 - 10 feet tall."
An established and recognized artist, visitors in Fayetteville and the region should take the time to visit the exhibit Robert Levin: Glass Artist, the exhibit will remain up until March 23, 2011.
Before, or after, seeing the glass exhibit, the 2nd Annual International Juried Exhibition at Fayetteville Technical Community College Gallery is another striking exhibit. Fayetteville Technical Community College has a gallery tucked away next to their performance theater and opened February 18, 2011 with their 2nd Annual International Juried Exhibition.
FTCC's second international competition is small, but well worth the trip to the gallery. Twelve artists were selected to exhibit multiple works to include prints, paintings, textile and photography. All 12 artists represent 10 different states.
Local artist and lecturer at Fayetteville State University, Dwight Smith, juried the competition and awarded fi rst place to Charmaine Ortiz from Carolina Beach, NC for her work titled "GR 1". A monoprint mounted on panel board, Ortiz fi nished the surface by applying graphite to create greater depth to a work that straddles two mediums — painting and a large mixed media print.
Smith selected a range of mediums for his awards so textile artists will enjoy seeing that a wall hanging earned 2nd place. Pat Kumicich from Naples, FL earned a 2nd place award with her textile wall hanging titled the "The Eyes Have It".
Beautifully detailed, the textile is a close up of three women. Not only is the work well crafted, but the composition is strong and the glance of each woman is haunting. A beautiful arrangement of fabric and quilting, the red lips on all thre
e women unifi es the work.
Next to Kumisich is a relief work titled "Either/Or Sebago" by Eric Standley from Blacksburg, VA. Winning 3rd place, "Either/Or Sebago" is a relief sculpture that seems to reference a book format — yet viewers will look into layers and layers of delicately cut paper as they look into the form. A fragile mini-world, Standley draws us into his work as a heightened sensory experience.
There were many works in the exhibit which could have easily received honors. From the silk screen print integrated with dry point mark making or the many small paintings — all the works are well crafted, the subjects vary and many are thought provoking.
When I think about the art faculty at Fayetteville Technical Community College, I know that teaching itself takes a lot of time and much effort out of class. When I visit the gallery at FTCC, I have to honor Chuck Lawson and Sean McDaniel, members of the art faculty, for coordinating exhibitions for the public and their students. And that they have both been raising the caliber of their exhibitions for years.
In particular, I like the reflective statement on the gallery sheet by McDaniel, Chairman of the Fine Art Department, about the value of the 2nd Annual International Juried Exhibition. He states, "In a show such as this we do not have a common thread to connect the artwork. What we have is the common denominator of the need to create and the power of observation."
He continues, "Although we do not always understand what the artist is saying or why they have chosen to present us with a particular image, we know that each of these works were the product of many hours of labor. Perhaps the piece is a moment we have seen and can relate to; in other works we are challenged to understand a concept which is foreign to us. In the end, we must look and strive to appreciate what we are standing in from of."
In short, McDaniel's words fi t both the gallery at FTCC and the Cape Fear Studios. Both galleries are working to bring artists from outside the area to share their vision and ways of working in an effort to bridge the big world of art with Fayetteville.
For information you can call Cape Fear Studios at 433-2986. The exhibit at FTCC runs until March 27, 2011 and interested visitors can call 678-8209 for hours of operation.
PHOTO: Top left: "GR 1" by Charmaine Ortiz. Bottom right: Glass by Robert Levin.