Walk into the exhibit of photographs by Carlo Pieroni at Gallery 208 and you are walking into the world of a highly successful Italian photographer whose favorite subject is women — beautiful women. Visitors to the opening reception will immediately sense the joyfulness in Pieroni's work; his passion for life and his art exudes when you talk to the artist.
Visitors will easily understand how Pieroni is currently the world's leading photographer of pin-up art.
Pieroni's portfolio includes various lifestyle genres, but this striking exhibit is all about the pin-up girl. Pieroni has taken a style with a long history and made it his own. Just think about where you may have seen the pin-up — old movies, popular magazines, calendars and even cartoons.
Remember the cartoon character Betty Boop, or the silent film star Theda Bara? Then there is the long list of modern pin-up gals: Carole Lombard, Marilyn Monroe, Betty Gable, Rita Haywood, Jane Russell and many, many more.
Pieroni has made the traditional pin-up girl a timeless modern beauty by changing the wardrobe and the environments the models are situated in. Somewhere between reality and fantasy Pieroni's pin-up girls find themselves in just about any situation. They can be posed standing on a pier holding fishing gear, being lifted into the air by a group of blue helium balloons — even cooking on a grill!
If you think the pin-up girl is limited to the "male gaze" in magazines, think again. His work has been commissioned by many international magazines and plenty of commercial companies. Those companies include Liz Claiborne Cosmetics, M&M candy, Everlast and Playtex.
So how did this career start? Pieroni was born in Florence, Italy, and practiced photography while still a student in high school. After graduating, he started his own commercial studio as a self-taught artist, and later becoming an art director for an advertising agency. His connection to Fayetteville is a model he met while on a job in the Sahara Desert. The model, Carol Wilson, is from Fayetteville. She later became his wife and the couple has three children and split their time between Italy and North Carolina.
Pieroni is a man who truly enjoys his work. "(I) began creating photographic imagery in the 1980s and enjoy having an international career in fashion and beauty photography shooting for several international magazines and advertising agencies."
Although Pieroni discovered the pin-up girl style for himself, the origin of the magazine pin-up is difficult to pin point. The pin-up style historically began as an attractive young woman used to illustrate stories or ads. The art emerged when magazines left the story behind and we are left with an illustration — an art form independent of a narrative story.
Visitors to Gallery 208 will enjoy the charm and beauty of Pieroni's pin-up girls. They are tasteful; the images are full of joy, and are campy and vampy. No need to be concerned about offending anyo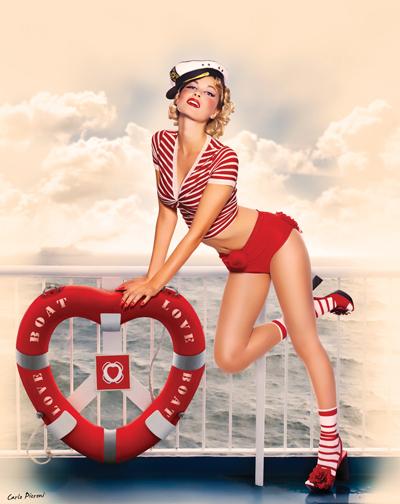 ne, Pieroni quoted the following in "Crazy Girls", in Black + White Magazine, when interviewed by Nick Dent; "More women than men told me they liked the pictures when they were exhibited in London and Paris. They say they love the happiness, the elegance.
It won't be difficult to identify the typical pin-up style. The women will all be beautiful. She will be wearing very high heels, clothes that hug her body to accentuate her shape, sometimes wearing lingerie; and often wearing a belt around her waist! Her hair will usually be long or pulled back to show her perfect makeup and smile. You will leave the exhibit knowing beauty is still a popular art form in our culture.
The opening reception for the exhibit is on Thursday, March 8 from 5:30-7 p.m. Gallery 208 is located in the corporate offices of Up & Coming Weekly at 208 Rowan St. The event is free and open to the public. Refreshments will be served. For more information, call 484-6200.
Photo: Gallery 208 will highlight the works of Carlo Pieroni during a reception on Thursday, March 8.