It can be antique bottles or early American furniture — ceramics, folk art, comic books, coins or original prints — the list is endless. The reason people collect any type of object or art object is varied, but always personal. Whether one acquires for sentiment, accumulating family heirlooms, or as an investment in the market place, we have many citizens in Fayetteville who are serious collectors of art and art objects.
The Healing Arts, an exhibit at the Arts Council of Fayetteville and Cumberland County, highlights four local physicians who collect works of art. Included in the exhibit are also creative works by three physicians. Sponsored by Cape Fear Valley Health, The Healing Arts is the first of two exhibitions to connect the art of science and the creative process.
Visitors to the Arts Council will enjoy works of high quality within a variety of styles and subjects. The collector is sharing with us their values and individual views about aesthetics, beauty and a dedication to supporting the arts. Although the collectors in this exhibit purchase works most often due to the emotional value of each piece, there is also another thread of commonality among this group of collectors — all commented how they preferred to know the artist in some way — either having simply met the artist or to interface with the artist.
Visitors to the exhibit have an opportunity to read a statement by each collector about why they collect works. Dr. James Pilgrim states: "My wife, Juanita, and I have always loved and enjoyed art, and started collecting art in college. The late Ernie Barnes, a classmate and close friend, always shared his beautiful works of art with us. Our appreciation of his work is unlimited."
We spend many hours enjoying the true meanings and peacefulness of our collection. Art has always been soothing to the soul. We only purchase what we truly like, and as it is often said, beauty is in th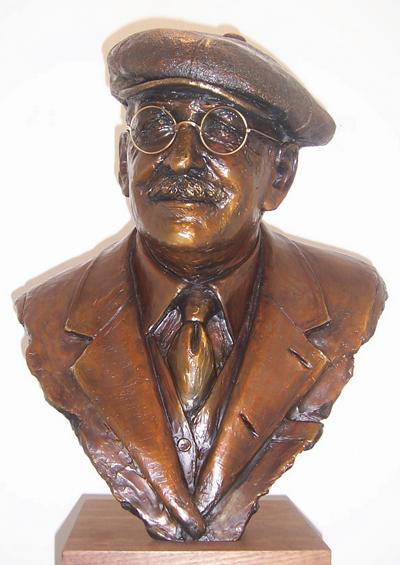 e eye of the beholders. Art collections are an investment, but even more important, it provides you with a sense of serenity when you are in the midst of it."
Visitors to The Healing Arts will readily see how the Pilgrims enjoy collecting many works by African-American artists. As well, they enjoy sharing the works and have shared parts of their collection at the previous Fayetteville Museum of Art, the Arts Council and Rosenthal Gallery on the campus of Fayetteville State University.
Dr. Hank and Representative Diane Parfitt are sharing their many works from local artists they have collected for many years. In particular, they were friends and ardent supporters of a well known realist painter who relocated to Fayetteville — Bob Rector.
Parfitts' statement is located under a painting of his antique car painted in a photo-realist style by Bob Rector. His statement reflects on the relationship they shared with the artist after meeting Rector in a downtown coffee house in the early '90s. "Rector talked of his years in Detroit and California as a commercial artist, doing car ads for General Motors and Ford. Back in the '60s and '70s, many of his ads appeared in Life and Saturday Evening Post. He showed us some artwork he carried around in the trunk of his old Volvo. The images were startlingly realistic. Diane suggested we get Bob to do a painting of my 1984 Olds convertible, the first "nice" car I owned.
After that, Bob and I formed a partnership. We got commissions for classic cars, portraits of people and their families, even pets. Bob created more than 80 original works — including images of vintage World War II airplanes and a series of historic downtown buildings — during the 10 years that we collaborated. Bob had travelled the world, but Fayetteville became his adopted home. He died in 2004 at age 73. At the time, he was working on three commissioned pieces."
Dr. Wayne Riggins and his partner, Mark Sullivan, are sharing an eclectic mix of works from their collection. From pin-hole camera photographs, original lithographs from publications, Chinese sumi painting and more, both collect what adds beauty to every room in their home.
Riggins stated, "We have been collecting works of art for the past 20 years. In the very beginning individual works were purchased due to the beauty each one exuded — a combination of subject, design and craftsmanship. The qualities of beauty and originality in each work continue to enrich our spirit and support those same aesthetics in the home.
Eventually it became important to meet the artist. Now, in our travels, we most often collect works from an artist we meet or artists we know in the community. Having a work from an artist you have personally met adds another dimension of appreciation for the work of art. "
Dr. Jerry and Naoma Ellison have selected part of their wood turning collection and one bronze sculpture to share with visitors to the Arts Council. All delicate in nature, visitors need to make sure they do not miss this collection of exquisite works in wood and metal.
A new collector of local artists, Dr. Robert and Christine Kastner are showing two works of art from their collection by two local artists. Like most of the collectors Christine Kastner stated: "I collect what I have a connection to - it can be a place we've been or an artist I know. No matter what the circumstance, each work draws a response from me in some way.
"Besides works from the collections of the above four local physicians, a limited number of works in the exhibit are works created by physicians. Dr. David Gilbert is exhibiting two of his bronze sculptures. Both larger than life-size, Gilbert is exhibiting a superb portrait of Donald Ross and his creative interpretation of a heart. Both works show his expertise in the lost wax sculpture technique.
Dr. Shirish Devasthali is exhibiting a beautiful beaded image of the Elephant God. Delicate and labor intensive, the beaded relief took Devasthali over a year to complete. Devasthali's patience and eye for details is evident in this highly creative work.
Another highly creative work is by Hank Parfitt. When visitors see the two small framed works of sea shells, they will not have any idea each perfect form in blue were created by Mammogram X-Rays (unless they take time to read the label).
The Healing Arts is an exhibit everyone should take the time to enjoy until June 16. For more information call the Arts Council at 910-323-1776 or go their Website at www.theartscouncil.com.
Photos: Middle right is a sculpture by Dr. Gilbert. Bottom left is a piece by artist Robert Barnardand, owned by Dr. Hank and Representative Diane Parfitt. Both are featured in the exhibit.