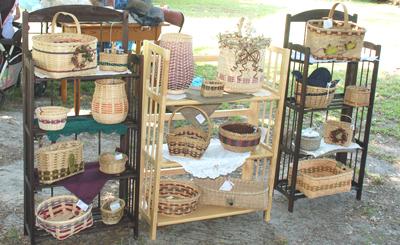 What do art, music, crafts, history and food have in common? They are all a part of the Museum of Cape Fear Historical Complex 2nd Saturdays Arts Fest.
The Arts Fest takes place on July 14 and August 11 from 11 a.m. to 4 p.m. The festival is a delightful mix of history and local creativity. People attending the festival, which is located on the grounds of the 1897 Poe House, will have the opportunity to sample treats from the Poe House Kitchen, to explore the work of various artists and crafters, take in exhibits and listen to great musicians. The event is free; however, several vendors will be on site.
The idea behind the 2nd Saturday Arts Fest is to "display art in a cultural setting," said Leisa Greathouse, curator of education at the museum. The Basket Buddies, Sally's Beads, Jazzy Girl, Trink's Store, Growing Stitches, a Bee Keeper and the American Red Cross are some of the vendors and exhibitors that will be present. Displayed and items for sale include, custom pet portraits, hand woven baskets, painted wood items, quilts, beaded jewelry, custom clocks, crocheted items and more.
Concessions will be provided by Big Ed's Creek Sauce and Catering. The museum is still accepting applications for vendors and there is no fee to set up as a vendor or exhibitor.
"We are willing to accept anyone who has homemade crafts or makes things themselves to help promote them and their craft," said Greathouse.
For more information or for a vendor application call 486-1330. There is no deadline for vendor applications.
Promoting the creative industry to spur economic stimulus is one of the reasons that the N.C. Department of Cultural Resources started the 2nd Saturday events. Many of the items displayed, such as homemade baskets and candles, are "novelties today, but for people a long time ago it was a necessity."
"Candle making was chore done on the farm in the fall. It was not for fun, but anyone who wanted light took the time to make candles," said Greathouse.
Along with all of the great art, majestic music, exciting exhibits and flavorful food, visitors can enjoy the "make-it and take-it" stations. At these stations visitors can make hand-dipped beeswax candles, weave on a hand-held loom, make a bracelet or bookmark and paint a water-color picture. These are great activities not just for adults but for children as well.
The 2nd Saturday's Arts Fest is not just another Saturday afternoon. It's an afternoon stocked full of creative expression, historical content and community support. Come and be enlightened and inspired by the cultural arts. Take the time to explore the vendors and exhibits, engage in craft activities, try delightful treats such as BBQ and fritters and explore the Poe House, which displays life in the first decades of the 20th century. Music, crafts, arts, history and food — it's all there, the only thing missing is you.
Find out more about this and other fun events at the Museum of the Cape Fear at museumofthecapefear.ncdcr.gov or by calling 486-1330.
Photo: Homemade items like baskets will be for sale at the 2nd Saturday Arts Fest.