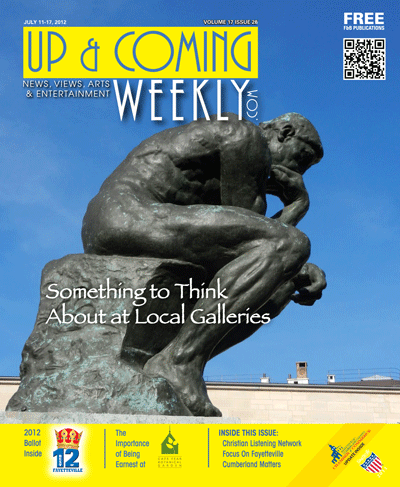 Thinking of cool ways to escape the scorching days of summer? The Fayetteville area has many museums and galleries with activities and exhibits to suit most anyone's interests. Engage your brain, support the arts and maybe even learn a thing or two.
Museum of the Cape Fear - The Museum of the Cape Fear is located near downtown Fayetteville on Arsenal Street. Permanent exhibits include displays featuring North Carolina ranging from the Paleo-Indian period through the early 1900s.
It's Electrifying! Opens July 14 and runs through Sept. 16. The traveling exhibit, sponsored by the North Carolina Museum of History, showcases how electricity changed lives in the early 20th century.
Also located on the property are the Poe House and Arsenal Park. The 1897 Poe House offers a peek into life in the early 20th century in the south. Tours are available and highlight women's roles, African-American history, children's roles and technological, economic and social changes in southern North Carolina and the country during this era.
Arsenal Park was used by the federal government to manufacture and store ordnance in the mid-1800s. It was commissioned in 1838. During the Civil War the site was used to produce rifl es and ammunition. In 1865, Arsenal Park was destroyed by Gen. William, T. Sherman and his troops as they moved to Atlanta.
Programs at the Museum include the History Ranger Program, Mommy, Me and the Museum Makes Three and 2nd Saturday Art Festivals. Find out more at museumofthecapefear.ncdcr.gov or by calling 486-1330.
The Arts Council - A strong supporter of the arts and local artists, the Arts Council Fayetteville/Cumberland County switches out exhibits monthly. Through July 21, visitors can enjoy Reflections: Empowering People with Disabilities. July 27-Aug. 18 check out Recycle! It's Second Nature, a show that will feature work by artists of all ages who submit artwork from recycled materials. This show is sponsored by the City of Fayetteville's Environmental Services Department. The Human Form debuts Aug. 24 and runs through Sept. 29.
The Arts Council also hosts 4th Friday each month and provides grants to local arts-related organizations and and artists in the community. Neighborhood Art Attacks are sponsored periodically by the Arts Council, as are the International Folk Festival and Dickens Holiday. Find out more about the Arts Council Fayetteville/Cumberland County at www.theartscouncil.com.
Cape Fear Studios - Located at 148 Maxwell St. in downtown Fayetteville, Cape Fear Studios is an artist cooperative featuring the works of local painters, photographers, sculptors, potters, woodworkers, glass artists and jewelers. Offering a new exhibit each month, Cape Fear Studios hosts both national and local exhibits. Stop by and maybe you will catch a local artist at work in one of the many studios.
In addition to exhibits, the gallery offers classes in several mediums including painting, drawing and stained glass. Cape Fear Studios also partners with Cape Fear Botanical Gardens on projects and classes.
Find out more about Cape Fear Studios at www.capefearstudios.com.
Gallery 208 - An intimate gallery located in the corporate offi ces of Up & Coming Weekly at 208 Rowan St., Gallery 208 features the hyper-realism works of Phillip Kidd and Rose-Ann San Martino.
Fayetteville Area Transportation and Local History Museum - From Native-American trails to steamboats and trains, explore the importance of the early trade communities of Cross Creek and Campbellton. This museum outlines the development of the plank road system that connected Fayetteville to other towns throughout North Carolina. African-American slave labor was used to build the plank roads. Formerly, the building was home to the Cape Fear and Yadkin Valley Railroad Company, which opened in Fayetteville in 1879 as a reorganization of the former Western railroad.
The museum hosts themed exhibits throughout the year and also participates in 4th Friday events and hosts the Fayetteville Farmers Market on Saturdays and Wednesdays during the harvest season.
Find out more about the Fayetteville Area Transportation and Local History Museum by calling 800-255-8217 or visit ww.fcpr.us/transportation_museum.aspx.
Fascinate U - Filled with education hand-on exhibits, this kid-friendly museum offers a place for kids to grow, learn, create and play. With events like Make It Take It and Super Science Saturdays, kids can learn while participating in fun filled and interesting activities. On the first and third Saturdays of the month, the Cape Fear Railroaders hosts an open house from 12-4 p.m. The model-train exhibits include a winter wonderland and Thomas the Train.
Fascinate U is a strong supporter of 4th Friday and features a craft and free admission during 4th Friday. Find out more about Fascinate U at www.fascinate-u.com.
Airborne & Special Operations Museum - Located in the heart of downtown Fayetteville, the Airborne & Special Operations Museum offers a unique educational experience on the United States military.The museum is currently hosting The Animal Called POW: U.S. Special Forces Prisoners of the Vietcong, an exhibit that describes and shows what life was like for Special Forces and Military Assistance Command soldiers held as prisoners in South Vietnam. Tour the Forrest of Darkness, check out the inside of an indoctrination hut, examine a tiger cage (torture cell) and learn about how rescue missions are planned and conducted. The exhibit runs through January of 2013.
Permanent exhibitions at the museum cover the 1940s when the U.S. Army first tested parachute teams and concludes with airborne and special operations units of today.
The simulator adds excitement to any visit to the museum with exciting films that put the viewer at the center of the action.
N.C. Veterans Park is adjacent to ASOM and complements the museum. The park opened in 2011 and is built on the theme "Veteran's Journey: life before, during, and after service." The secondary theme is rebirth and healing.
The park features a 3,500 square foot visitors center that includes a Service Ribbon Wall made of fused glass that represents every service medal awarded since the Civil War. There is also a chandelier made from 33,500 dog tags.
The North Carolina Soils Wall is built with solids collected from the state's 100 counties. Soils native to North Carolina are featured throughout the park.
Find out more about ASOM at www.asomf.org and the N.C. Veteran's Park at www.ncveteranspark.org.
82nd Airborne Division Museum - Military enthusiasts are in for a treat at the 82nd Airborne Division Museum. The museum showcases the history and development of airborne forces. Check out the many artifacts related to all things airborne. There are several military aircraft on display as well exhibits covering World War I, World War II, post World War II, Dominican Republic, Vietnam, Grenada, Operation Golden Pheasant, Panama, Desert Shield/Storm, Hurricane Andrew, Operation Restore Democracy: Haiti, Operation Restore Hope: Cuban Refugees, Operation Joint Endeavor: Bosnia, Operation Allied Force: Kosovo, Operation Enduring Freedom: Afghanistan, Operation Iraqi Freedom: Iraq, Hurricane Katrina and Division Reorganization.
The museum collects artifacts so that future generations can understand the past and learn from it. Find out more about the museum at www.82ndairbornedivisionmuseum.com.
The JFK Special Warfare Museum - The U.S. Army John F. Kennedy Special Warfare Museum collects preserves, exhibits and interprets historical property used to support the training and mission of the U.S. Army John F. Kennedy Special Warfare Center and School. It is the regimental museum for the U.S. Army Special Forces, Civil Affairs and Military Support Operations. Exhibits range from World War I displays of the Office of Strategic Servic, the original special-service force to current military operations. Find out more about the U.S. Army John F. Kennedy Special Warfare Museum Association at www.jfkwebstore.com.
Methodist University - Housed within the William F. Bethune Center for Visual Arts, the David McCune International Art Gallery coordinates exhibitions of art by students, regional, national, and international artists, educating students and the public through a diverse representation of fine art.
The McCune Gallery is open from 10 a.m. – 5 p.m., Monday through Friday. To find out more call the gallery at 425-5379.
FSU - Opening July 28 and running through Aug. 1, is the Discover Art exhibition. Aug. 4-18 the feature exhibit is High Times, Hard Times, North Carolina, curated by Soni Martin. On Aug. 16, don't miss the lecture by Dwight Smith – Art: Abstraction, Social Change and Cultural Identity in My Postwar America. The lecture runs from 2:30-3:30 p.m. There will be a reception from 11 a.m. – 2 p.m. on August 18.
FTCC - Visit www.faytechcc.edu or call 678-8400 to fi nd out more about its galleries and fi ne arts programs.
Photo: Bottom right; Cool off at some of the local museums and galleries.