Applying the motto of the Visual Art Alliance, "Buy original, buy local," is a perfect strategy for this shopping season. Although the area's universities and community college galleries will be closing soon for the holidays, downtown gallery artists are ready to greet shoppers looking for distinctive gifts while supporting local artists and the local businesses.
One stop for shopping should be the Fayetteville-Cumberland County Arts Council on Hay Street. The exhibit, Local Craft Style, is comprised of a select group of area artists who have distinctive styles and who use traditional craft materials. From birdhouses made out of recycled materials to folk-art doll making, each artist in the exhibit has a distinctive gift for originality — an example of the talented pool of artists who transcend the ordinary to the original.
Only two artists in Local Craft Style have long-standing exhibition reputations, Greg Hathaway and Martha Sisk; for the remaining artists this is their first exhibit with the Arts Council. Shawn Hobbs is an example of a local artist who has been developing his reputation as an artist; Hobbs fabricates functional birdhouses from recycled material.
Originally from Peter's Creek, N.C., a small farming community 25 miles southeast of Fayetteville, Hobbs began his birdhouse fabrication path after making a Mother's Day gift in 2009. Creating one-of-a-kind birdhouses is his signature style. Each one is unique and suitable for the outdoors, a decoration for a porch or even indoor sculpture.
Two examples of Hobbs' unique designs are titled Reflections and Dogwood Birdhouse. Mounted on 4"x4" posts, both bird houses are functional and a work of art. Reflections is made of cedar, small round mirrors arranged on wrought iron create a whimsical habitat for our feathered friends. Dogwood Birdhouse has original hand-painted images of large dogwoods on the surface of a habitat that incorporates vines. Both are unique, as are the other 10 birdhouses for sale.
Two quilting artists are participating in the exhibit: Martha Sisk and Sana Moulder, who both have very different styles. Sisk is a retired educator and a freelance artist who exhibits regularly. She incorporates print making techniques in her quilted wall hangings. In Local Craft Style, she is also selling two baby quilts and affordable handbags.
Moulder has served in the fi eld of nursing and presently works for the Cumberland County Library in adult services. She is a quilter and an animal advocate who has been known to auction her quilts to benefi t animals. The subjects of two of Moulder's quilts are animals — a dog quilt and one with a cat pattern. Both are light-hearted creations in which Moulder illustrates the joy of animals.
Doll maker Susan O'Conner is also a local educator — a math teacher at a middle school. She has lived in the Hope Mills community for seven years. In 1989, she established her doll-making business known as Rabbit Hollow Prims. O'Conner sells one-of-a-kind soft dolls made of fabric, found objects and decorated with embroidery. She shared her process to make the soft sculptures look aged. "I often use a distressing technique with acrylic paints and then sanding and baking for a truly vintage and worn out look and a rich leathery patina," said O'Conner, whose dolls in the exhibit follow several themes as a subject: seasonal, doll interpretations and patriotism.
Two ceramic artists are exhibiting, Hathaway and Sandra Y. Valdivia. Hathaway is an established artist who is well known in the Fayetteville community as an art advocate for the last 30 years. Known for his Raku ceramics and watercolors, Hathaway is exhibiting two large seasonal angel fi urines, several large vases and two original ceramic urns. In true Hathaway style, all are high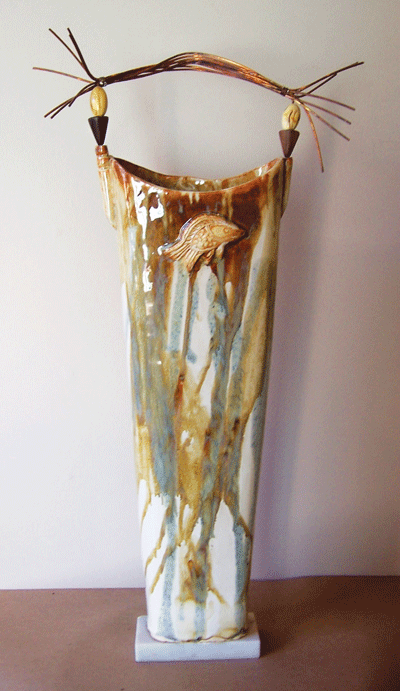 ly creative, original and beautifully crafted.
Valdivia is a new exhibiting artist. After recently earning an undergraduate degree in ceramics, Valdivia is exhibiting work that reflects her cultural heritage. She stated: "My ceramic style has been influenced by pre-Hispanic and pre-Columbian works. My love for natural materials, warm colors and organic designs has been infl uenced by my native origins in Mexico."
Valdivia is exhibiting sculptural forms and platters that double as functional and sculptures when not being used.
Local Craft Style exhibit closes on Saturday, December 15, 2012, so shopping time is short. While the Annual Member Artists Holiday Exhibit at the Cape Fear Studios on Maxwell Street runs through January 21st, 2012.
A popular gallery, Cape Fear Studios is offering a variety of artistic creations for sale during the holiday season in its Annual Member Artists Holiday Exhibit — paintings, glass art, wood, photography, jewelry, fine-writing pens, and pottery are all on display in this special yearly exhibit and everything is for sale.
A specially priced collection of art miniatures is part of the exhibit; small paintings and drawings, all costing less than $100; hang on one wall of the gallery. Nearly all of the Cape Fear Studios artists contribute to this annual holiday fare — bargains for everyone's budget, an original work for everyone's taste and style.
Cape Fear Studios is also showing glasswork by a visiting artist, The Art Glass of David Goldhagen, an internationally known glass-art designer based in Hayesville, N.C. Goldhagen uses traditional glassblowing methods to create each of his works individually — beginning with a gathering of molten glass layered and manipulated on the surface, then creating intricate patterns and movement within each piece of glass.
Goldhagen's work is often seen as organic, sensual, fl uid and energetic. He creates large- to small-scale sculptural art glass as well as smaller works such as holiday ornaments, small sculptures and elegant vases. Cape Fear Studios is carrying a wide selection of his work — perfect gifts for the season.
Goldhagen's work can be found in the permanent collections of corporations, museums and foundations including Merrill Lynch, Walt Disney, The North Carolina Museum of History, the Asheville Art Museum, Tucson Museum of Art and Philips Arena in Atlanta. Even if you don't have shopping in mind, the holiday season is a perfect time to visit and explore Cape Fear Studios, a chance to see the powerful glass art of a master glassblower and the artists who regularly exhibit throughout the year.
Ellen Olson Brooks, executive director of Cape Fear Studios, had this to say about the Annual Member Artists Holiday Exhibit, "Of all the exhibits and events, our holiday show and our Visiting Artist David Goldhagen tops the list. There really is something artistically lovely and unique for every person who comes in through the door. The jewelry is exquisite; the glass works by our own glass artists are beautiful for display or use; the mini paintings are absolutely charming and real bargains; the pottery is wonderful. We have original creations priced from $13 to $1,300. But even more fun is the fact that this is truly an art exhibit as well as a retail show created by Cape Fear Studios local artists. The holiday season is the perfect time to come see us at Cape Fear Studios!"
If you don't find what you looking for at the Arts Council or Cape Fear Studios, there are several other galleries you can visit and purchase original works of art during the month of December: Gallery 208 at 208 Rowan Street, Gallery One13 at 113 Gillespie Street and Maxwell Street has Greg's Place Gallery and Olde Towne Gallery.
Photo: One stop for shopping should be the Fayetteville and Cumberland County Arts Council on Hay Street.