Contemporary approaches to painting and sculpture are often far removed from the traditional approach to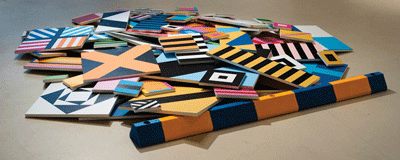 reproduce a still life or landscape in paint, to model a portrait in clay. Artists since the early 20th century have explored the boundaries of what a painting and sculpture is and the possibilities of what they can become.
The exhibit, Contemporary Ideas in Art at Rosenthal Gallery, on the campus of Fayetteville State University, is an opportunity for visitors to see the range of what artists are investigating as worthy of a painting and sculpture. It is an opportunity for visitors to the gallery to experi-ence the pleasure of witnessing and understand-ing new approaches to art.
Liselott Johnsson, an artist from Madison, Ga., is exhibiting a painting titled "It is Not Dead, Just Stunned." The size of the painting, an installa-tion, is 12 feet by 13 feet; the work demands at-tention and reflection from visitors to the gallery. In the work, the artist has stacked, on the floor, a large number of abstract geometric paintings — each different, precise, hard edged. Johnsson's work exemplifies the dramatic shifts in meaning, which have taken place in the last 60 years in the medium of painting.
To understand one of the many new direc-tions of painting, Johnsson's artist statement directs us towards her intent: "Intrigued by the formal boundaries of painting as they relate to objects and architecture, I use materials, space, color and geometry to study the qualities of these limits … By integrating painting with architectural space; I negate a fixed view of the work."
The paintings by local artist Aaron Wallace are created by applying spray insulation foam on canvas before he applies his layers of paint. Visitors may be stunned into sensing a painting can be gooey and puffy, playful and tactile. A painting can be about contradictions and teeter between something industrial and a delicate sensitivity at the same moment. A painting can be something you may want to scoop up like ice cream and eat!
Robert Bern, an artist from Santa Fe, N. M., is exhibiting a sculpture titled "In America." Looking up at the 12-foot-tall table, one can see the tabletop has a trap door that has fallen open. The words cut into the sides of the edges of the tabletop indicate a hopeful futility for many who try to break through the glass ceiling. The text reads: "In America the doorway to success is within reach for those who work hard and believe".
Another exceptional local artist, Marcela Casals, is exhibiting three sculptures. The most popular seems to be her dramatic 12-foot-tall sculpture suspended from the ceiling; as if floating, the weight and beauty of chiffon material exude through hollow ceramic tubes. White on white, gravity and material give way to what is expressed in the title "Gift" (Earth Bones Series).
Other artists in the exhibit include painter James Biederman from New York City, pho-tographer Jeff Brown from Upper Darby, Pa., painter Dana Pasila from Provincetown, Mass., and Diane Wiencke from Peaks Island, Maine.
Until the closing of the exhibit on Feb. 27, visitors to Rosenthal Gallery will have the opportunity to explore the complexities of contemporary art, experience a new full range of meanings and ways of ex-pressing meaning being explored by the artists in Contemporary Ideas in Art. For information call Dwight Smith at 672-1795.
Photo: Contemporary Ideas in Art is on display through Feb. 27 at Fayetteville State University's Rosenthal Gallery.