Fayetteville is a city filled with people and artists who are originally from locations around the world. Gallery 208 celebrates this international benefi t by hosting a one-person exhibition titled New Paintings by Liviana Casotti. Born and trained in Italy, Casotti has resided intermittently in Fayetteville over the past 18 years.
Visitors to the Feb. 28, opening at Gallery 208 will meet the artist and may recognize her as someone who attends most of the gallery openings in the area — she is always in attendance at the Gallery 208 openings. If you don't know Casotti, her paintings are just as intriguing as her artistic journey.
Born in Lucca, Italy, Casotti studied art in her hometown and later earned an art teaching degree in Florence, Italy. The Italian lifestyle and her early art experiences were steeped in classical western tradition, her studies in art included the rigors of drawing and painting from life, the fi gure and still life. Academics centered on understanding the theory and techniques of masters of the 14th, 15th and 16th centuries.
Her life and art career took a turn when she married and moved to Lawson, Okla. She then studied art and earned a bachelor's of fi ne art from Cameron University in Oklahoma. Upon completion of her degree, she moved to California and began studying art at San Jose State University. I met Liviana when she moved to Fayetteville in 1996. An exuberant and effervescent individual, Casotti's passion for art, politics and thinking out-of-the-box was always, and still is, contagious.
Over the years, she has exhibited in group invitationals at the Arts Council and at two venues which no longer exist — the Fayetteville Museum of Art and a one person exhibition at the Architect's Gallery. Knowing her history in the area, I was interested in sharing her views of the arts in Fayetteville and how studying art in the United States infl uenced her approach to painting.
When I stopped by Casotti's studio she was working on a still life; the natural light from the window was just right, her canvas painted with patterns of bright turquoise, many shades of green, complements of reds and orange, a dab of yellow here and there. Similar to her earlier work, her palette is still key; but a new system of exaggerated patterns is now part of her work, fixating on the affects of color and light. It is easy to see the patterns in the metal kitchen appliances of her still life; her choice of objects is always symbolic.
Her still life is organized with kitchen tools and appliances, often dog leashes and bowls — all metaphors for, according to Casotti, "part of a world that is in my past and cannot be retrieved but is in my memory. I cannot retrieve better days, nor revive people and animals lost during my life but I can put bright colors on my painting and depict objects of nostalgia to diffuse the longing. A search for order, but the realities of disorder are present in the compositions as in my life."
Quick to share her views about content and meaning, Casotti explained that her work today is about "truth and life, order and disorder — a painting will evoke both. My painting evokes nostalgia, a feeling or refl ection on a pleasant and safe past, a time of life that was innocent, simpler and even happier."
I asked her how studying art in the United States was different than when she studied in Italy.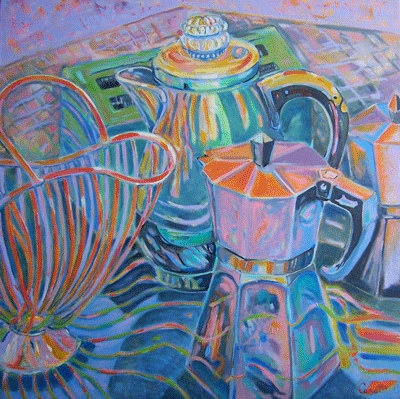 "That's easy. In Italy they have a very traditional academic approach while the schools I attended in Oklahoma and California focused more on the intellectual idea of exploring meaning and content. Although drawing is taught in the lower-level art courses, in the United States the upper-level courses focus on the many different approaches to contemporary meaning and introduce you to the variety of styles which are still prevalent," she explained.
Although Casotti often returns to Italy to visit, her home has been Fayetteville for the last 10 years, so I was interested in knowing what she has observed in the visual arts locally and how, if any, it has changed or remained the same.
"I see galleries come and go in Fayetteville, now it seems there are very few left at this time," she said. "The closing of the Fayetteville Museum of Art has had a huge negative impact on the arts in the area. It seems as if too many art venues are focused on creating revenue instead of bringing exhibitions to the area which broadens our idea of what is happening nationally and internationally in the arts. On the other hand, I think Gallery 208 has always been committed to the arts in the purest sense and hosts excellent exhibitions – art for art's sake of high quality".
The public is invited to meet Casotti and view her new body of work during the opening reception of New Paintings by Liviana Casotti at Gallery 208 on Feb. 28, between 5:30 and 7 p.m. Gallery 208 is located at 208 Rowan St. Regular hours to view their exhibits are Monday-Friday, 9 a.m. – 5 p.m. For those who cannot make the opening reception, the exhibit will remain open through the third week in April.
Photo: The works of Liviana Casotti will be on display at Gallery 208.